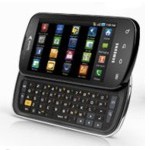 Depending on how you define smartphone, its relatively young history can extend back as much as seven or eight years now. RIM and Palm got the segment started with their BlackBerry and Treo platforms. RIM of course has gone on to thrive and continues to be a major smartphone force, while Palm didn't handle competition from Apple and Android to well, now living as a division within HP.
We are now embarking on the next generation of smartphones – one where true mobile broadband will unleash the power of these mobile computing devices to lengths we haven't really witnessed before. I classify these next generation smartphones as the devices that can really take advantage of true mobile broadband – WiMAX and HSPA+ for now – soon to be LTE. You might say smartphones that truly embrace 4G fit this category, but if you want to split technology hairs, HSPA+ is more like 3.5G, and some even argue that WiMAX is not "truly 4G."
There is limited selection of these next generation smartphones for now, but availability is growing. Sprint dominates the options today with availability of the HTC EVO (if you can find one), and the soon to be released Samsung Epic. Both of these smartphones take advantage of the Clearwire WiMAX network, offering potential download speeds of 4 Mb/s and upload speeds of 2 Mb/s. T-Mobile will soon launch the G2 smartphone, a Google/Android inspired follow up to the G1, which will offer access to T-Mobile's HSPA+ network. T-Mobile claims their HSPA+ network can "theoretically offer" 21 Mb/s download speeds and 5.7 Mb/s upload speeds, but real world experience will probably be about a third of that.
With these speeds, these mobile computing devices begin to offer some incredible features including:
True video calling and chat
Embedded mobile hotspots, extending mobile broadband access to multiple devices
HD video recording and playback
Video streaming to the phone from the likes of Netflix and YouTube
1 Ghz and above processing power
Real time social networking synchronization
Multiple-axis motion sensor gaming
The other two wireless behemoths, Verizon and AT&T will soon join this exclusive club. AT&T is building an HSPA+ network prior to its 4G network and will certainly offer HSPA+ enabled Smartphones. Verizon will begin offering LTE later this year, with a surprise smartphone launch soon after I'm sure (stay tuned for Verizon CEO Ivan Seidenberg's keynote address at the 2011 CES). Metro PCS may beat Verizon to the punch with their own LTE inspired smartphone.
The moral of the story – the next generation smartphone is upon us and it has far reaching implications for the broadband ecosystem – wireless and wireline alike. Once these heavily video centric devices get into the hands of millions, imagine the impact to the overall broadband network. Much of the bandwidth demand generated by these mobile computers will ride wireline fiber networks.  It provides a great opportunity for wireline companies to leverage their fiber assets.
And you thought smartphone activity was tremendous in the past couple years — just wait.