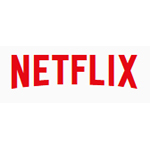 Thirty percent of Netflix subscribers are on the premium tier, according to new research about Netflix subscribership by tier from Parks Associates.
This is almost 50% more than late last year when 21% were in that category. The basic tier has fallen from 35% to 27%. These changes have occurred despite a price increase in October 2017.
"This shift reflects trends that we are seeing across the industry, beyond Netflix," said Parks Associates Senior Director of Research Brett Sappington said in a press release. "Netflix's basic tier is limited to one screen and SD quality, while the premium tier offers viewing on up to four screens and access to Ultra HD content. Many OTT-subscribing households have multiple people who want to watch similar content at the same time. Rather than competing for access, consumers are willing to pay extra for the convenience of multiple streams. At the same time, consumers want to watch on TVs, making HD viewing a must. Demand for Ultra HD TV is small but increasing."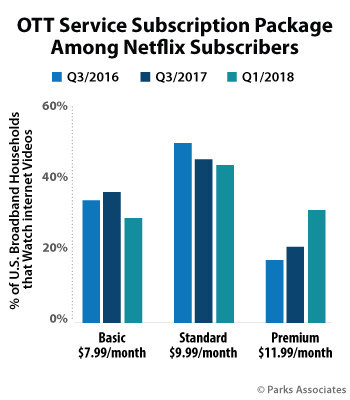 Netflix Subscribership by Tier
A comparison of the third quarters of 2016 and 2017 and the first quarter of this year is telling. The percentage of U.S broadband households using the lowest-cost basic service was highest, at more than 30%, in the third quarter of 2017. It was lowest in the first quarter of this year. Uptake for the middle-tier standard package was highest in the third quarter of 2016 and lower in the first quarter of 2018. The premium tier was most popular in the first quarter of this year and least popular in the third quarter of 2016. In general, the standard tier has been the most popular, the premium tier the least popular and the basic tier has been in the middle, but premium subscribers now slightly exceed basic subscribers.
High-end Netflix pricing could be on the verge of changing. Earlier this month reports in an Italian blog and at CordCutting said that a trial in some European markets increased pricing for the premium tier. The $13.99 price tag would increase by $3 under the trial.