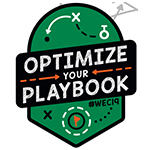 At this week's National Cable Television Cooperative (NCTC) Winter Education Conference (WEC) in Atlanta an interesting dynamic was on full display. Video, and its worth as a service for NCTC members, was called into question, with broadband identified as the clear future for service providers.
On the surface, that's not too surprising. The ascension of broadband as the primary service for legacy cable TV companies (and legacy phone companies too) has been well documented. But it is still interesting to hear "deemphasizing video" so openly talked about at an NCTC meeting, where smaller independent cable operators (traditional and IPTV) assemble to talk the future of the business.
If you dig a little deeper below the surface, though, you find there is definitely an important nuance to the view that video is no longer the primary service for cable TV companies.  The debate is really not about "to do, or not to do video." It's about how you do it.
Video Doesn't Matter Anymore
Wall Street analyst Craig Moffett helped set the stage for this debate with his macro-level view of the video business, suggesting it no longer matters, at least from a financial point of view.
"Video just doesn't matter much anymore," Moffett said during a keynote session. In fact the traditional video business is unraveling before our eyes, he said, thanks in part to the pursuit of cord cutters with direct-to-consumer strategies by media companies. A model that has been perfected by Netflix, and thus emulated by others.
He pointed to the impact video now has on net income for bigger providers and thus the valuation investors now place on it. He estimated video is now valued at only 2X cash flow, while broadband is valued at 12X cash flow, or six times greater.
Moffett says that cable companies' move into commercial services with SMBs and enterprises basically makes video irrelevant, given that the income from these moves replaces any revenue hit occurring from cord cutting. This ascension of data and broadband is virtually complete, he argues.
Moffett makes sense from a macro and Wall Street view, but there is an important nuance here. For many providers, video is still a necessary part of the bundle to remain relevant in a competitive market, given how important video can be to a broadband bundle. And let's not forget that in many rural markets, absent a local cable or IPTV provider, there's very limited access to local broadcast channels and local content in general, at least for those who don't want DBS service.
Some of Moffett's data and assertions were backed up by other speakers at the event, including Ken Johnson, SVP of Technology Services at Cable One. Johnson reported that only 15% of Cable One's homes passed now subscribe to video. Quite a remarkable number for a traditional cable company, albeit a company that has committed to move away from video and to focus on data and broadband.
These changes are so profound at Cable One that they're changing their name to Sparklight. It no longer makes sense for the company to have cable in its name, Johnson told the crowd of cable companies.
A Rebuttal
But another key point from Johnson also helped clarify this debate. He said the issue is not whether traditional cable companies should be in the video business. The real issue is whether they should be in the business of delivering video across a managed set-top-box.
In other words, consumers aren't dropping video. They're just choosing how they want to consume it, and increasingly that choice involves broadband-delivered video to an app. Johnson's advice to cable companies is to figure out how to get to the app-delivered experience quickly, whether that's your own IP-delivered video package, or someone else's.
Point being, even in a broadband dominated world, video is still the most important product. Just look at how much bandwidth is driven by video on any given broadband network. What's changing is the terms and methods by which it's delivered and billed.
Service providers need to ensure that whatever path they choose, it involves their customers having the option to choose whatever video package they want, and with a good customer experience. That could mean remaining in and billing for video. Or it could mean partnering with an OTT player. Or it could mean dropping video altogether, but ensuring your broadband delivers the best video experience throughout an entire home.
Regardless, video remains as important as it's always been.