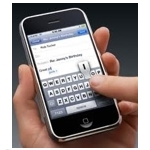 Despite a slow 2013 first quarter for net new connections, mobile data service revenue continues its impressive run for the wireless industry, according to leading wireless industry consultant Chetan Sharma. Mobile data revenue now accounts for close to 45% of total service revenue, and Sharma predicts it may pass the 50% mark for the U.S. market some time this year (it's already 65% in Japan), generating a total of $90 billion in 2013.
Much of the explosion in data revenue can be tied to the rapid adoption of smartphones. Sharma's data reveals that smartphones are now in the hands of over 50% of U.S. subscribers and account for 85% of all new device sales (for 1Q13). According to Sharma, there's still plenty of room for growth, considering that the 50% of subscribers who now own smartphones are concentrated in only 30% of U.S. households.
Like wireline carriers before them, wireless carriers are now in the middle of a transition away from voice based revenue to data based. As Sharma's research predicts, some time this year, or maybe early next year, data revenue will be the majority of service revenue generated from wireless carriers. The transition is quicker for wireless than it was for wireline, requiring wireless carriers to adapt that much faster.
As technologies like VoLTE, which in simple terms is VoIP for LTE, and LTE-Advanced begin to take hold, we can assume that data service revenue share will only accelerate. Buckle up and enjoy the ride.