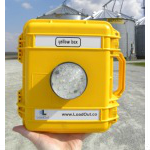 If not for his allergies, Neil Mylet might never have invented Yellow Box, a mobile app that enables the driver of a truck to stay inside the truck cab while loading grain from a grain bin or elevator. But because of his allergies, Mylet was motivated to create the app — and ultimately his own business, West Lafayette, Ind.-based LoadOut.
"I realized I could go back to farming and start a technology company and solve problems that average people have," said Mylet in an interview.
Traditionally truck drivers climb out of the truck cab and up to where they can see into the truck trailer to track the progress of the loading process, which uses gravity to let the grain flow into the truck trailer from the taller bin or elevator. Periodically the driver must jump back into the cab to reposition the vehicle as needed – a practice that consumes time and can be dangerous, especially for older people.
Created with the help of applications developer Lextech, Yellow Box uses a Wi-Fi video camera attached to the grain bin or elevator that communicates with the driver's smartphone, enabling the driver to watch and control the loading process from inside the truck cab and saving time on truck repositioning. Typically the farmer or elevator operator purchases the yellow box containing the video camera and the system smarts, and the smartphone app is given away for free.
You can watch this video to see how it works:
http://www.youtube.com/watch?v=fPpk-FCOqBI
The Yellow Box app uses Wi-Fi because of the bandwidth required to support video. Eventually Mylet envisions that there could be a 4G version of the offering but for now 4G is too much of a rarity in rural areas, he said.
An individual kernel of corn might be loaded and unloaded numerous times on its route from the farm to the ultimate consumer – and Mylet said LoadOut is seeing interest in the Yellow Box app at numerous points in the value chain, including farmers, elevator operators and others. The company also is receiving inquiries from other industries where similar processes are used and has seen interest from more than 70 countries.
Yellow Box is just one of numerous innovative smartphone apps that have been developed for agricultural use. CropLife, a media outlet focused on agriculture, has compiled several lists of useful mobile agricultural apps – including everything from apps aimed at predicting corn yields to apps that use telematics to remotely connect owners and managers to their equipment.
Some apps require mobile Internet connectivity. Others don't, but they do benefit from the portable nature of smartphones and tablets, and from smartphone app distribution infrastructure.
After talking to Mylet and reading about other mobile agricultural apps, I got to thinking about how much value mobile data services and devices can bring to the farming industry.
Mylet relates the story of a customer in his early forties who had some difficulty persuading his father, who was in his seventies, to use the Yellow Box app. The father had never used a smartphone before, but after discovering the value of Yellow Box, the son told Mylet he couldn't get the smartphone away from his dad.
Seems like it would be a good idea for wireless operators serving rural areas to highlight some of these apps in their newsletters and in other advertising and promotions. It's the same concept that larger companies use in ads showing people asking Siri to remind them to do something or find a recipe, for example. But in this case, the capabilities featured would be targeted for the rural market.
Sometimes we need to remind ourselves that ultimately, it's not all about technology. It's what people can do with the technology that really counts.