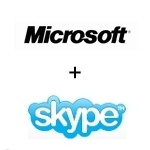 The bidding war for Skype, which reportedly included Google and Facebook, is over and Microsoft won. For a cool $8.5 billion, they will acquire the global real time communications firm. Not a bad payday for Skype's owners.
In a recent SEC filing, given as a part of Skype's one-time pending IPO, Skype claimed 663 million registered users and 12.8 billion billable minutes of use (out of 207 billion total MOU) across their video and voice platform. Of those 663 million users, Skype reported 145 million were active users on a monthly basis. They also reported annual ARPU of $97 for revenue providing members.
That's a pretty big new market segment for Microsoft to leverage. Integrating real time video and voice service into some of Microsoft's products, including the Kinect and Xbox, have interesting implications, not to mention the possibilities for unified business and enterprise communications.
"Skype will support Microsoft devices like Xbox and Kinect, Windows Phone and a wide array of Windows devices, and Microsoft will connect Skype users with Lync, Outlook, Xbox Live and other communities."
For example, Xbox Live users in multiple different locations, who could already communicate via voice, may now be able to connect via video conference. Skype also may give Windows Phone 7, Microsoft's mobile OS, a boost to better compete with Android and Apple's iOS. Microsoft just became a much bigger player in the communications space.
What I also find interesting is the valuation of the deal – $8.5 billion in cash, Microsoft's largest acquisition in terms of deal value. For that sum, Microsoft gains a company that generated approximately $860 million in total revenue and a net loss of $7 million in 2010 (according to Skype SEC filings). Skype's owners and investors have to be quite happy.
Just goes to show you that web 2.0 valuations continue to have less to do with financials, and more to do with reach, community, and potential – at least from the buyer's point of view. I'm sure they will get their fair share of skeptics, not only on the valuation, but on Microsoft's ability to integrate Skype into their bureaucracy and profit from it.