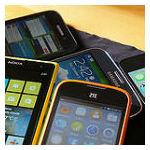 Mobile and online messaging traffic will continue growing fast to reach 160 trillion messages per year by 2019. That would be 70 percent higher than 2014's 94.2 trillion messages, according to new market research from Juniper Research.
The forecast 160 trillion mobile and online messages equates to roughly 438 billion messages sent and received daily by 2019. This encompasses SMS, MMS, IM, social media and email, Juniper explains in a press release.
Email accounts for the largest share of mobile and online messaging traffic, totaling some 35 trillion messages per year. Nearly 8 in 10 email messages (28 trillion) can be considered spam, however, Juniper notes in its "Mobile & Online Messaging: SMS, RCS & IM Markets 2015-2019" report.
Moreover, Juniper expects IM will overtake email as the largest source of mobile and online messaging traffic within the next 12 months. Nearly 43 trillion messages per year will be passed via IM come 2019, the market research company says.
Messaging Forecast
The negligible cost of IM apps is driving users to migrate from SMS, Juniper points out. More than 400 million people are active users of IM apps and services from providers such as Tencent's QQ, WhatsApp and WeChat, Juniper says. WhatsApp reported it is handling more than 30 billion instant messages a day.
Much more in the way of mobile and online messaging traffic is also originating from social media sites, including Facebook, Twitter and Instagram. The latter two continue to experience rapid growth in usage, while more than 5.8 billion posts, likes and comments are being made on Facebook on a daily basis on average.
Turning to large, enterprise business usage, Juniper found that enterprise users regard application-to-person (A2P) SMS as a more secure and reliable form of messaging than IM when it comes to verification and notification. That will drive A2P revenues to more than $70 billion by 2019, up from $62.8 billion this year, Juniper says.
Other key takeaways from Juniper include:
Many OTT messaging players are in the process of diversifying their offerings across markets as diverse as food ordering, taxi bookings and payments. Examples would include Snapchat with their 'Snapcash' service, and LINE's LINE Pay.
MNOs have been slow to implement RCS (Rich Communications Services), which will enable the provision of enhanced messaging services, although the recent availability of joyn-enabled smartphones allied to greater commercial deployments should significantly boost traffic in the medium term