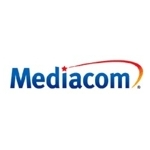 Mediacom, Iowa's largest cable MSO, announced they are close to completing an all digital transition for their eastern Iowa properties. The transition will reclaim bandwidth used for analog channels – bandwidth they can then use for more HD programming and faster broadband speeds in those markets.
"As we eliminate much of the analog bandwidth from our network, Mediacom customers can be confident that we'll keep pace with their demand for more high-definition channels and the ultrafast speeds of our next-generation broadband service," said Doug Frank, Mediacom regional vice president, in a press release.
The move will allow Mediacom to expand their channel lineup and prepare those eastern Iowa markets for DOCSIS 3.0 powered broadband service. Mediacom has announced intentions for DOCSIS 3.0 initiatives in Iowa before, including a 100 Mb/s+ broadband service.
Mediacom is offering 'rent free' leased digital adapters for customers who don't have digital ready TVs. Customers who choose to go adapter free will only be able to view 'basic cable' channels 2 -22, missing out on some of the 54 channels that are now available to basic digital cable subscribers.