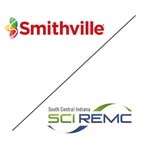 Smithville Communications and SCI REMC–a rural telecom provider and an electric cooperative, respectively–are teaming to build fiber based broadband infrastructure to serve their common Indiana service areas. The telco electric cooperative fiber partnership project will serve about 3,400 residents and businesses in Ellettsville, Lake Monroe and Gosport, communities with homes served by copper-based services.
SCI REMC President and CEO James Tanneberger said in a press release that residential and business customers will be able to choose services from either company and that marketing efforts by the two will be independent. The project will begin immediately and is expected to be complete by June of 2023.
"This partnership is a win for everyone involved," Tanneberger said in the press release. "By working with Smithville, we are able to meet our electric smart grid needs and ensure businesses and residents have access to world-class high-speed internet in the most expeditious, fiscally responsible way possible."
Unique Partnership Model
It's a unique partnership, where both partners will market and sell services to the same customer base. Usually, partnerships like this feature a single entity acting as the sole provider, rather than both partners marketing the same service. It does solve the issue of multiple networks competing for the same customers, which can be an expensive proposition in more rural markets. Building one network for both companies to share makes more economic sense than building two competing networks to serve a lower density rural market.
"Smithville is pleased to partner with SCI REMC for this project," said Darby McCarty, Chairman and CEO of Smithville in the press release. "We both serve customers in the same geographic area, so it makes sense to work together to provide service, particularly with the high cost to build in rural areas. The real winners here are the residents, who will have better, more reliable internet service as a result."
This unique and innovative approach does solve a thorny rural market issue, as electric cooperatives look to build fiber networks in rural markets that may be served by a traditional rural telco already. By partnering together, it is preventing one company from overbuilding the other, an issue that can create real friction in rural markets. It will be an interesting partnership to watch though, as they apparently will still compete with each other for end customers.
Telco and Electric Cooperative Fiber Partnership Projects
There are a number of existing telco and electric cooperative fiber partnership projects. Another interesting model was announced last month, where Cincinnati Bell and the Butler Rural Electric announced a partnership for rural Ohio. The partnership will bring together a much larger telco in Cincinnati Bell with a rural electric cooperative. These partnerships have historically featured smaller rural telcos and neighboring electric cooperatives.
As a report last year from CoBank Knowledge Exchange, the research unit of rural lender CoBank, noted, telcos and electric cooperatives can both benefit from joint fiber projects. In addition to expanding rural broadband access, telcos can offset declining regulated revenues and the electric cooperative can gain access to smart grid technology that can enhance reliability and customer satisfaction.
It's still quite common for telcos and electric cooperatives to go it alone on fiber deployments, however. Last June, the Institute for Local Self-Reliance (ILSR) released research that said 140 U.S. telecom and electric cooperatives have deployed gigabit broadband services, primarily in rural areas. The majority of these were independent projects, rather than partnerships between the two types of companies. The 2019 research showed a big increase from 2017, when ILSR identified 87 gigabit broadband deployments by telco or electric cooperatives.