One hundred and forty U.S. telecom and electric cooperatives have deployed gigabit broadband service, primarily in rural areas, according to new research from the Institute for Local Self-Reliance (ILSR). That's a substantial jump from December 2017, when the ILSR found 87 cooperative gigabit broadband deployments. The number of cooperatives that have deployed fiber broadband has now reached 350, ILSR said.
According to the ILSR, the U.S. has approximately 260 telecom cooperatives and 900 electric cooperatives. The ILSR reported previously that the majority of telecom cooperatives have deployed fiber-to-the-home.
Electric cooperatives provide power to more than half of the U.S. land mass in 47 states. Although only about 10% of them have a fiber internet access project, many of them are considering such projects, ILSR said.
"We have been told it is the most common conversation at a meeting of rural electric co-ops," wrote the authors of the new ILSR report, titled "Cooperatives Fiberize Rural America: A Trusted Model for the Internet Era."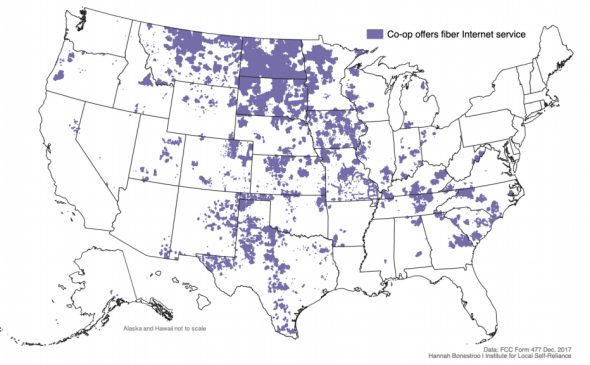 The ILSR report authors see states becoming more open to the idea of cooperatives offering fiber broadband. They note, for example, that North Carolina has overturned a restriction that prevented electric cooperatives from accessing federal broadband funding and that Georgia and Mississippi have explicitly authorized electric cooperatives to offer internet access. The authors also noted that Indiana, Colorado, Maryland, North Carolina and Texas have adopted laws to allow cooperatives to use electric easements for broadband networks.
Other interesting data points from the report:
The rural U.S. is home to just 14% of the population, but as of 2017, covers 72% of the land area.
In some states, cooperative fiber deployments are extensive. In North Dakota, cooperatives cover more than 70% of the land mass with fiber, most of which is provided by telephone cooperatives and small commercial providers. For South Dakota, that number is 47.7%. Other states in which cooperatives cover more than 20% of the land mass with fiber include Montana, Iowa and Minnesota.
While most telecom and electric cooperatives were established  many years ago, at least two such cooperatives were formed in recent years, including Allband Communications Cooperative in Michigan and RS Fiber in Minnesota.