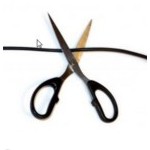 Informa, a U.K. based market research firm, thinks the pay-TV industry has little to worry about regarding video cord cutters, for now at least. They claim to have counted actual video cord cutters, people who have cancelled their subscription video service in favor of OTT video options, from across the world. Their number – 1.2 million cord cutters worldwide, or 0.18% of the pay TV total market.
When Informa breaks the numbers down, they claim 36% of the 1.2 million cutters reside in the U.S., or 432K U.S. cord cutters. Not exactly reason to panic. But of course there is a 'but.'
"While the impact of cord-cutting on pay TV has been extremely limited to date, this will change as OTT services will continue to improve and become increasingly attractive. Connected TVs and settops will allow easier access to these services and our forecasts therefore anticipate the number of cord-cutters growing to 16.1 million in 2015. That's about 2% of the total pay TV subscriber base," comments Adam Thomas, senior analyst at Informa Telecoms & Media.
So, according to Informa, OTT will take 2% of the pay-tv business by 2015 (which they estimate equates to close to 3 million subscribers in North America). Still not a huge number, but an impressive rate of growth, over 1,250% in five years. Informa predicts an average annual growth rate over those five years of about 69%, peaking in the first year at 113% and ending in the fifth year at 43%.
Informa suggests the impact of OTT will be more significant outside of the U.S., as more consumers in less mature pay-TV markets bypass the traditional methods for the emerging OTT options.
One way to interpret this data is to put it in perspective. The data does not say the OTT video trend should be ignored. In fact the exponential growth of OTT video usage cannot be ignored. What the data does say is that not many consumers are seeing enough value in those OTT options to cancel their subscription video service. What should also be considered is that attitude could change and quickly.
One thing we've all learned is the pace of change and innovation in today's marketplace is remarkable — so much so that consumers attitudes about OTT and its impact on subscription video services could change on a dime if or when the right innovation compels them to do so.