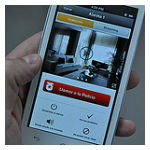 Applications of Internet of Things (IoT) technology in home entertainment can open the door to broader adoption of home IoT devices and application services, according to new market research about IoT early adopters from IDC.
Nearly 3 in 10 of those with a home network stream online videos, and they're much more likely than other home network owners to express strong interest in making use of other home IoT applications.
Most consumers remain skeptical of the value of home IoT and are waiting to learn more before making purchases, IDC highlights in a news release.  Encouragingly for developers and vendors, 1 in 5 who make use of home automation, monitoring and control devices said owners solved problems they didn't even know they had.
IoT Early Adopters
"The long-run impact of the Internet of Things will be broader and deeper than we imagine right now, but the industry is still in the early stages of developing the vision and conveying it to consumers," Jonathan Gaw, research manager for IDC's Internet of Things: Consumer program, commented.
The results come from IDC's 2016 Consumer Internet of Things Survey. The market research company will present additional data and information from the report during a complimentary webcast on April 21.
Telecom companies, cable/MSO and IP security companies are leveraging cloud platforms and wireless sensors in smart homes to market and sell individual and bundled smart home products and services via multiple retail channels, ON World pointed out in a recently released report. The market research company expects smart home market revenues will reach $27.5 billion by 2020.