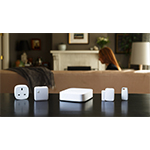 A smart home revenues forecast from ON World calls for $27.5 billion in product and service revenues by 2020. Millions of early adopters purchased cloud-connected smart home devices last year, driving sales to shoot up nearly 100%, ON World said.
Fueling smart home revenues growth is the spread of wireless sensors connected to cloud platforms, which has enabled telecom, cable/MSO and IP security companies to market and sell individual and bundled smart home products and services via multiple retail channels, ON World highlights in a press release.
"The retail channel is growing the fastest as technology-driven consumers use the Web and YouTube to configure and install devices into their smart homes," ON World research director Mareca Hatler noted. "Our demographic research shows that Millennials want smarter homes for safety and security and Baby Boomers want to use it for elderly care and home energy management."
Willingness to Spend
Half of the respondents to a January 2016 online survey of 1,000 U.S. online adults said they would be willing to spend at least $60 per year for various smart home services. Nearly 9 in 10 who said they were planning to purchase a smart home product within the next two years are most likely to buy them from a retail or online shop, such as Amazon, Apple Store, Home Depot or Lowe's.
ON World's latest Smart Home market research encompassed 900 smart home products and 300 mobile apps with 300,000 consumer ratings. The results revealed that sales of smart home hubs surged 110% year-over-year in 2015 while sales of individual smart home products surged over 150%.
By 2020, ON World forecasts an installed base of smart homes of 75 million.
All that said, only 1 in 5 smart home apps communicate with one another, which leaves the prospect of a smart home killer app still open, ON World added.
100 Million Smart Home Appliances
In the meantime, the market research company cited industry interoperability collaborations such as the AllSeen Alliance, Open Internet Consortium, Thread Group and Mozaiq as setting the stage for solutions to emerge and add momentum to the market in coming years. Next-generation browsers, cloud technologies and multi-protocol smart home hubs will mask complexity from end users, researchers said.
In another of its smart home report series, ON World found that sales of major smart home appliances – connected refrigerators, ovens, washers and dryers – shot 140% higher in 2015. In addition, 1 in 3 online survey respondents said they were likely to buy an Internet-connected home appliance in the next two years.
ON World forecasts nearly 100 million smart appliances will be installed worldwide within the next five years. By 2020, shipments will account for 15% of energy-efficient home appliance shipments. Most will be major appliances, but shipments of smaller home connected appliances, such as slow cookers, vacuums and coffee makers will grow as well.