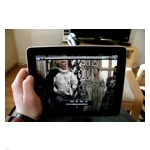 Apple had a strong 1Q in terms of media tablet shipments, but a steep fall in Android-based shipments lead to a miss in total media tablet shipment projections for the first three months of 2012, according to an IDC press release.
Total 1Q worldwide media tablet unit shipments reached 17.4 million, 1.2 million below IDC's forecast. IDC did predict a sharp seasonal slowdown of 34% from Q4's record-breaking 28.2 million, but the actual decline came in at 38.4%. That said, global tablet shipments grew at a 120% rate year-over-year in 1Q 2012, up from 7.9 million units in 1Q 2011, according to IDC's Worldwide Quarterly Media Tablet and eReader Tracker.
"Apple reasserted its dominance in the market this quarter, driving huge shipment totals at a time when all but a few Android vendors saw their numbers drop precipitously after posting big gains during the holiday buying season," said Tom Mainelli, research director for Mobile Connected Devices at IDC, in an announcement of the results.
"Apple's move to position the iPad as an all-purpose tablet, instead of just a content consumption device, is resonating with consumers as well as educational and commercial buyers. And its decision to keep a lower-priced iPad 2 in the market after it launched the new iPad in March seems to be paying off as well."
Apple's 11.8 million 1Q iPad unit shipments was down from 15.4 million in 4Q. Its market share rose from 54.7% to 68% quarter-to-quarter. Amazon "stormed" into second place in 4Q 2011 with a 16.8% market share on shipments of 4.8 million units. Its tablet market share declined significantly in 1Q, however, to just over 4%, which saw it slip into third place for 1Q 2012.
Samsung regained some lost market share during 1Q, regaining the #2 position. Lenovo jumped higher, into the number four spot, followed by Barnes & Noble, according to IDC.
IDC expects Android-based tablets and manufacturers to recover quickly in 2012, as "companies such as Samsung and Lenovo are beginning to gain traction in the market with their latest generation of Android products," and as they and other OEMs introduce new products.
"It seems some of the mainstream Android vendors are finally beginning to grasp a fact that Amazon, B&N, and Pandigital figured out early on: Namely, to compete in the media tablet market with Apple, they must offer their products at notably lower price points," Mainelli added.
"We expect a new, larger-screened device from Amazon at a typically aggressive price point, and Google will enter the market with an inexpensive, co-branded ASUS tablet designed to compete directly on price with Amazon's Kindle Fire. The search giant's new tablet will run a pure version of Android, whereas the Fire runs Amazon's own forked version of the OS that cuts Google out of the picture."
The expected introduction of Microsoft Windows 8 and Windows RT-based products in 2012's 2H will also have an impact on the shape and total size of the tablet market, IDC noted.
"The worldwide tablet market is entering a new phase in the second half of 2012 that will undoubtedly reshape the competitive landscape," said Bob O'Donnell, program vice president, Clients and Displays.
"While Apple will continue to sit comfortably on the top for now, the battle for the next several positions is going to be fierce. Throw in Ultrabooks, the launch of Windows 8, and a few surprise product launches, and you have all the makings of an incredible 2012 holiday shopping season."
Media tablets have quickly grown in popularity and are now Americans' second choice when it comes to watching online full-length TV shows, according to recent research from Viacom. TV program viewers spent 15% of their total full-length TV show viewing time watching on tablets, Viacom reported.
Image courtesy of flickr user Ben Dodson.