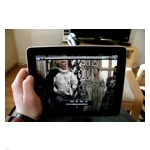 Media tablets are now Americans' second "go to," or second-screen, device for viewing full-length TV shows, according to Viacom's "Tapping into Tabletomics." The new research examines consumer behavior and emotions around the tablet user-experience, with a focus on "tablets as TV and the dual-screen experience," according to a press release.
Viacom drew on a national, online survey of 2,500 people ages 8-54, along with in-depth, qualitative interviews with dedicated tablet users in New York and Los Angeles in producing the report. Examining the results, Viacom found that "in just a few short years, tablets have risen to second-screen prominence for full-length TV (FLTV) show viewing, ahead of computers." TV viewers spent 15% of their total FLTV time watching on tablets.
Growing use of FLTV tablet viewing has accompanied declines in desktop computer and smartphone FLTV viewing, according to Viacom's research. Comedy and music are the top genres watched on tablets, while reality shows are the top genre viewed on televisions, followed by drama, science fiction and sports.
According to Viacom's Tabletomics report, among today's tablet users:
62% use their tablets daily
Daily tablet users spend an average of 2.4 hours per day on their tablets
85% of tablet use is for personal reasons versus business
77% of tablet use is alone
74% of tablet usage is done at home
Most media activities on the tablet, such as playing games and watching TV shows, peak with the 18-24 demo
In addition, Viacom found that MSO users, Netflix subscribers, Apple TV owners, AirPlay and Whispersync users are "very aggressive tablet users." Using these products and services leads to "significantly higher levels of FLTV show watching on tablets," according to the Tabletomics report.
Among tablet owners who subscribe to a cable company that offers streaming apps, about half report downloading the app. These MSO app users spend 20% more time on their tablet than non-MSO app users.
24% of Airplay users watch FLTV shows on their tablets, while the same can be said for 22% of MSO app users and 19% of Netflix users.
Over one third of both AirPlay (35%) and Whispersync (34%) users say they watch more TV on their tablets because of these apps.
Many tablet users are using tablets coincidentally with watching on TV sets to multitask or complement watching on the TV. They're making use of apps such as Viacom-MTV's WatchWith and VH1's Co-Star to do so, according to the report.
"Our audiences are some of the most deeply engaged and active across social platforms," said Colleen Fahey Rush, executive vice president and chief research officer, Viacom Media Networks. "Co-viewing apps create more meaningful ways to reach them and represent an entirely new level of engagement for fans of our content."
TV sets still provide the most satisfying viewing experience, with TV ranked higher across all viewing attributes from sound and picture quality and watching current episodes to ease-of-use, however, Viacom noted.
Image courtesy of flickr user Ben Dodson.