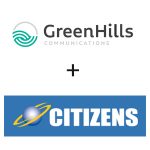 Two Missouri rural broadband providers are coming together, as Green Hills Communications announced it intends to acquire Citizens Communications. The two long-standing communications companies will combine to serve nine counties across central and northwest Missouri.
Based in Breckenridge, Green Hills Communications will acquire all three operating companies of Citizens Communications, including Citizens Telephone Company of Higginsville, Missouri, Citizens Cablevision, Inc., and Citizens Long Distance Company. Citizens network spans 700 miles across 13 Missouri communities. The combined companies will serve 7,100 business & residential customers.
"At Green Hills, we value strong connections and strive to serve our customers with integrity and compassion every day," says David Adams, Green Hills General Manager in a press release. "We recognize those same values in the Citizens' staff and in its service to its customers. By combining capabilities with Citizens, we can build upon our respective legacies and continue to provide advanced technology solutions across North Central Missouri."
Both Green Hills and Citizens currently provide phone service, video, high-speed Internet, unified business communications, hosted business solutions, Ethernet connectivity and customized networking solutions. According to Green Hills Communications, the two companies will continue to operate as separate brands in their respective communities, under the direction of the existing Green Hills management team.
The move illustrates ongoing M&A activity among smaller broadband providers, who are looking to build scale and expand presence. The past few years have been filled with deals like this where local and regional rural broadband providers come together to achieve these goals.
"Throughout its history, Citizens has strived to always provide the latest technology while continually investing in its network and in its communities," stated Brian Cornelius, Citizens President. "We recognize that same community-minded focus in Green Hills and have no doubt that the tradition of excellence will carry forward for years to come."
The transaction is subject to regulatory approvals and other customary closing conditions and is expected to close in the third quarter of 2020. Financial terms of the transaction were not disclosed.