When Google fiber acquired wireless ISP Webpass, they gained gigabit fixed wireless capability in six markets across the country. Shortly after this transaction, Google fiber began pausing their ambitious FTTP overbuild plans in multiple previously announced Google fiber markets, and conventional wisdom suggests they are rethinking their FTTP overbuild plans in favor of fixed wireless.
We may have gotten first glimpse of that plan yesterday, when for the first time, Google fiber included their gigabit fixed wireless capable markets on the official Google fiber map. Webpass offers fixed wireless services, including 100 Mbps, 200 Mbps, 500 Mbps & 1 Gpbs tiers, in Boston, Chicago, Miami, Oakland, San Diego, and San Francisco. Prices start at $60/month.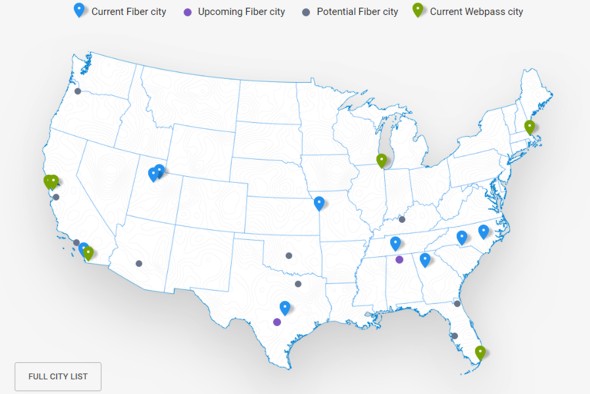 In a blog post titled 'More places to grab gigabit, with Webpass,' Google fiber president Dennis Kish said "Since we announced that Webpass is part of the Google Fiber family last year, we've been working together in the cities both Webpass and Google Fiber share: Chicago, San Diego and San Francisco."
"Webpass has been offering superfast Internet service — up to a gigabit per second — in these cities for some time, and has the full support of Google Fiber to continue doing so going forward."
Webpass focuses on residential customers primarily in MDUs and business customers in the same. They do not currently blanket a market with fixed wireless. Their technology is currently point-to-point, limiting its widescale use across a market's footprint. "Customers in six metro areas — now marked by a green pin — may be eligible to use Webpass if their building has at least 10 units, and is wired with Ethernet cabling," said Kish.
Gigabit Fixed Wireless Next Steps
Could that change with Google fiber's help? The two may be planning to expand the reach of this fixed wireless option in these existing markets, and perhaps use Webpass' experience to go into new markets, including Google fiber markets that have now been paused.
The fixed wireless space is getting quite crowded these days. Beyond the historical fixed wireless market that's been operating for many years in primarily rural markets, upstarts like Webpass are expanding the scope and capabilities of fixed wireless technology. There are also a number of start-ups, including Starry, who aim to build on what Webpass and other legacy fixed wireless providers have done.
The advent of 5G, and specifically pre-5G, will enable larger tier one carriers like Verizon and AT&T to enter the gigabit fixed wireless space as well. It should make for an interesting fixed wireless ride in the years to come.