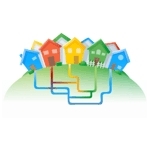 Google announced today their intention to build a Google fiber network that will "deliver Internet speeds more than 100 times faster than what most Americans have access to today with 1 gigabit per second, fiber-to-the-home connections." They say the FTTH network will be competitively priced and will reach "at least 50,000 and potentially up to 500,000 people."
Google is issuing a fiber network RFI and encouraging communities to request Google to come to them to build what I suspect may be multiple FTTH deployments. Some of the listed objectives of this initiative include:
Next generation apps: We want to see what developers and users can do with ultra high-speeds, whether it's creating new bandwidth-intensive "killer apps" and services, or other uses we can't yet imagine.
New deployment techniques: We'll test new ways to build fiber networks, and to help inform and support deployments elsewhere, we'll share key lessons learned with the world.
Openness and choice: We'll operate an "open access" network, giving users the choice of multiple service providers. And consistent with our past advocacy, we'll manage our network in an open, non-discriminatory and transparent way.
This is an interesting development to say the least. The idea of Google becoming a broadband service provider, even in this trial approach, could have far reaching implications. I suspect Google's objectives have more to do with trying to influence and change market dynamics (as well as public policy) to make their core products even more pervasive, than to build a service provider model to compete with existing carriers. But I guess one never knows.
This latest development joins their recent announcement to move into the social networking arena with the launch of Google Buzz. With all of these announcements, the cynical view could easily conclude that Google simply has too much time and too much money and they're bored.