Windstream has renamed and upgraded its Kinetic MyWIN online account management tool and mobile app, which now is called Go Kinetic.
The company says that the redesigned platform is more customizable and enables users to access, manage and update their account from anywhere. Among Go Kinetic's features is the ability to view and pay bills online, participate in live chat, track order and support requests, manage WiFi passwords and receive information on special offers. The mobile app is available at the Google Play Store, the App Store or at my.gokinetic.com.
The goal is to increase flexibility and convenience for its customers. "We know that a growing number of our customers want the option to handle their business with us at their own convenience," Kinetic Vice President of Customer Care Paul Strickland said in a press release. "In addition to the ongoing $2 billion investment to drive fiber deeper into our network, we are making investments in tools like this so that customers access service the way they want it when they want it. And we plan to keep investing and improving their experience."
People who are not yet registered for MyWIN or Go Kinetic are eligible through July 23 for the Go Kinetic 1 Year of Free Internet Giveaway. Users who create a Go Kinetic account for the first time can enter to win.
Kinetic by Windstream provides broadband, entertainment and security services through fiber and 5G fixed wireless to businesses and consumers in 18 states.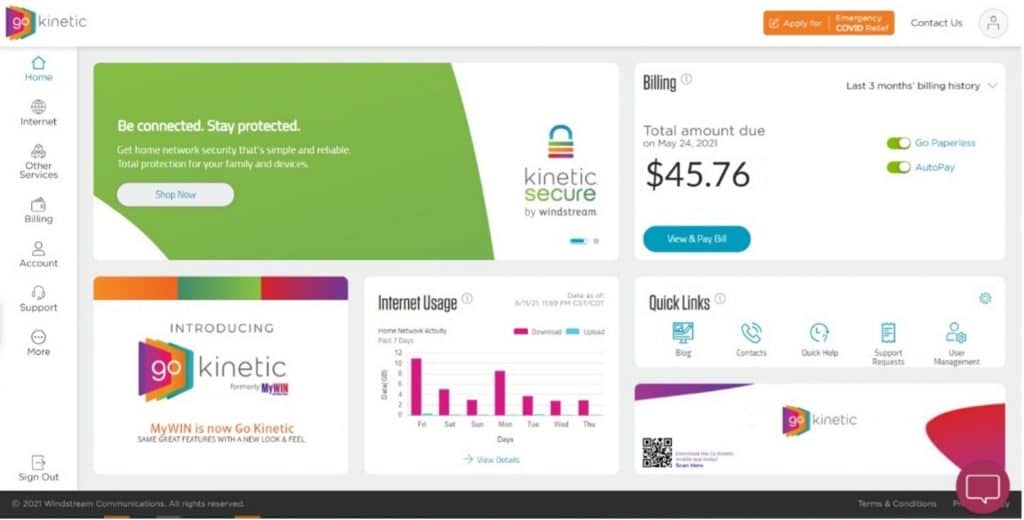 Windstream has made several Kinetic announcements this year, mostly on the business side. Most recently, in early June Kinetic Business introduced the DDoS Mitigation Service, a fully managed service that monitors, detects, validates and mitigates attacks, even on third party networks. The goal is to handle situations before an outage or other damage occurs. In late May, the company introduced Professional Services, a "high-touch" service aimed at ensuring that customers' networks comply with industry regulations.