Frontier's acquisition of Verizon lines in three states last week came with an added bonus — $48.5 million annually, or $291 million in total, from the FCC in Frontier CAF funding for the six-year program. That's the amount of funding that Verizon last year accepted on Frontier's behalf from the Connect America Fund program – and it brings Frontier's total CAF funding to $331.5 million annually.
Frontier on Monday sent a letter to the FCC confirming its commitment to bring broadband to parts of California and Texas where broadband isn't available today. Those are two of three states where the company acquired lines from Verizon, and the commitment is for locations in former Verizon territories. Verizon declined funding for the third state where Frontier is acquiring lines – Florida – and for all other Verizon local service territories.
When the FCC offered CAF funding to the nation's larger price cap carriers last year, Frontier's plan to acquire the Verizon lines had been announced but not yet approved. At that time Frontier accepted Connect America funding totaling $283 million annually – the total amount the company was offered to bring service to parts of what was then its local service territory. The addition of the funding for California and Texas brings Frontier's total CAF funding to $331.5 million annually.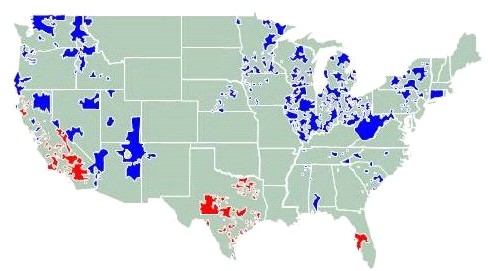 Frontier CAF Funding Covers Buildout Costs
This should be a good deal for Frontier, as Frontier CFO and EVP John Jureller previously said that Frontier CAF funding covers virtually all of the costs to meet CAF buildout requirements without Frontier having to draw from its own capex budget.
Frontier's buildout commitment for its serving area at the time the CAF funding was offered was 670,000 locations, and Jureller estimated that Frontier could see additional revenues of $100 million annually from those locations. That estimate assumed customers will take service at an average speed of 12 Mbps and that some customers also will sign up for Frontier Secure, the company's digital security offering.
Accepting the funding for California and Texas adds about 100,000 more locations to Frontier's buildout requirement – and based on Jureller's numbers, has the potential to increase Frontier's revenues by an additional $15 million annually, bringing Frontier's annual CAF revenue impact to $115 million.