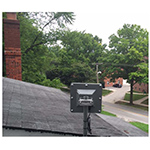 Rural areas could soon see a jump in fixed wireless deployments once the FCC fully opens up spectrum for citizens band radio service (CBRS). Fixed LTE equipment operating in that band has the potential to offer an economical solution in a wide range of deployment scenarios, said Patrick Leary, North American president for Baicells — one of several manufacturers of fixed wireless LTE equipment operating at CBRS frequencies — in an interview with Telecompetitor.
"CBRS finally allows the preponderance of small rural operators and private entities to build private LTE networks with protected spectrum," said Leary.
Fixed LTE in CBRS Band
A key advantage of fixed LTE in the CBRS band is that it will be able to provide coverage in areas lacking a line of sight between the tower and the end user, Leary explained. Some rural operators find that as many as 60% of potential customers cannot be served using traditional fixed wireless equipment because of line of sight problems.
Current fixed wireless equipment that can work without line of sight — including equipment operating in vacant TV broadcast spectrum known as TV white spaces – tends to be quite costly, Leary said. But fixed LTE in the CBRS band should be more economical, he said.
The CBRS band includes spectrum in the 3550-3700 MHz band. Traditionally some of that spectrum was reserved for government users, but now will be shared with commercial entities. Another portion of the band around 3650 MHz traditionally has been "lightly licensed," but will now be collapsed into the CBRS band, Leary explained.
The FCC last year put plans in place for three different types of CBRS band users, including incumbent government users who will have priority in specific geographic areas, priority access licensees (PALs) who will gain spectrum through an upcoming auction, and unlicensed users known as general authorized access (GAA).
Every census tract will have up to seven PAL licenses for 10 MHz of spectrum for a total of 70 MHz, while 80 MHz will be available for GAA, according to Baicells. A spectrum access system (SAS) similar to what is used for TV white spaces equipment but which is "more comprehensive" is designed to ensure that users do not operate in portions of the spectrum band they are not authorized to use, Leary explained. Google, Federated Wireless, Sony, Amdocs and Comsearch are among the companies that will be offering SAS technology, he noted.
Baicells and others already offer equipment operating in the 3650 MHz band and which also can work in the broader CBRS band, including GAA and PAL bands, but equipment must be re-certified for CBRS operation, Leary noted. The FCC isn't issuing new 3650 MHz licenses and has not yet authorized GAA or PAL use of CBRS spectrum, but Leary is hoping the commission will take steps during third quarter to firm up plans for the PAL auction and for authorizing GAA deployment. Baicells is hopeful that the CBRS band will be fully operational by early 2018.
Leary has been encouraging network operators to participate in the PAL auction. He noted that some network operators cover just a few census tracts and, considering that seven licenses are available for every census tract, some of them "could go for low amounts."
Fixed LTE in the CBRS band could be used to meet Connect America Fund deployment requirements, Leary said. He added that Baicells is currently involved in "a lot of trials," including some with "very sizeable" operators. He noted, though, that some operators may not use fixed LTE in the CBRS band for all of their fixed wireless installations but instead may continue to use lower-cost options for installations where line of sight is available.