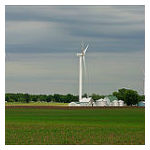 Rural operators could find it easier to obtain spectrum licenses in the citizens broadband radio service (CBRS) band as the result of CBRS auction plans adopted by the FCC at today's monthly commission meeting. Previously the FCC had said it would only issue licenses where at least two operators bid on spectrum in the auction. But the commission today said that licenses will be issued in rural areas even if only a single company bids for a license.
The CBRS band, also known as the 3.5 GHz band, consists of spectrum between 3550-3700 MHz. Previously the FCC determined that licenses in the band would be issued on a census tract basis. That decision may have been driven, at least in part, by the expectation that large national operators would use the spectrum for small cells to augment coverage in high-traffic urban areas. But the small size license areas also could benefit small rural operators by making it more affordable for them to obtain licenses.
The most likely business case for the rural carriers may be to support fixed broadband wireless service. Telecompetitor spoke recently with Jeff Kohler, a co-founder of rural broadband wireless provider Rise Broadband, who was very enthusiastic about the opportunities that he expects to see as a result of the CBRS auction. Kohler noted that in addition to having potentially more affordable licenses, the CBRS band can support faster broadband speeds than some other spectrum bands.
CBRS Auction Plans
Also today the FCC clarified some other aspects of CBRS auction plans. As previously decided, the band will include three different types of users – including incumbent military users who will have priority in specific geographic areas where they have operations, as well as priority access licensees (PALs) and unlicensed users.
Priority access licenses are the ones that will be the focus of the CBRS auction. Unlicensed use in CBRS jargon is known as general authorized access (GAA).
Other plans for the 3.5 GHz band include using technology to enable various types of users to share the spectrum by tracking where spectrum is available for various types of use. Similar technology already is used to enable spectrum sharing in vacant TV broadcast spectrum known as TV white spaces.
A Dissenter
Despite general enthusiasm about the CBRS auction plans adopted at today's FCC meeting, one commissioner criticized several elements of the plan.
Commissioner Michael O'Rielly argued that the plan to grant a license to a single bidder should have included urban as well as rural areas. He also argued that the license period length is too short. The specific license period length was not discussed at today's meeting, but previously the commission said the license period would be three years.
O'Rielly also expressed concern that there was no guarantee that a single bidder would be able to obtain a license in future auctions. That shortcoming, coupled with the short license period, he said could prevent some interested parties from bidding because "there is no predictability and certainty regarding investments made by those seeking the licenses."
Image courtesy of flickr user Tom Gill.