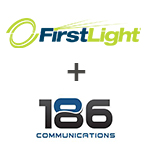 The FirstLight 186 Communications acquisition, announced in July, has been completed. Northeast-based FirstLight says that it now has completed four acquisitions during the past year.
"The past year has been a momentous one of growth and advancement for FirstLight, and today's completed acquisition of 186 Communications further strengthens FirstLight's position to best serve our customers," Kurt Van Wagenen, FirstLight President and CEO said in a press release. "We are excited to officially combine our operations with 186, and in doing so, extend our network reach even deeper into Massachusetts, New Hampshire and Vermont."
FirstLight 186 Communications Acquisition
FirstLight will combine 186's network in Massachusetts, New Hampshire and Vermont with its own. The carrier says that it now has 14,000 route miles that connect almost 8,000 locations and 12 data centers comprising more than 225,000 square feet of space. The company supports Internet, cloud and voice services in addition to serving data centers.
186 also lauded the move. "We have greatly anticipated this day," Rob Carmichael, 186 CEO said in the press release. "Now as a single organization, FirstLight is well equipped to continue to serve the growing bandwidth needs of businesses throughout the Northeast."
FirstLight has spent a lot of time in the news lately. In April, the Albany-based company said that it had developed a collaborative relationship with f6networks. The companies now can offer end to end services to entities with holdings on both sides of the U.S./Canadian border.
In May, FirstLight said that it had rebranded Sovernet Communications under the FirstLight brand. That initial acquisition of Sovernet was announced in March. Last month, FirstLight completed the acquisition of Finger Lakes Technology Group.
Yesterday, IDI Billing Solutions said FirstLight selected IDI's CostGuard application, which offers rating and billing and flexible API integration.