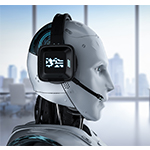 FCC Chairman Ajit Pai has circulated a declaratory ruling that would allow phone companies to block robocalls by default, with consumers having the option of opting out of robocall blocking. Carriers also would be allowed to block calls to subscribers that are not on the subscriber's contact list.
The commission is expected to vote on the ruling next month, when it also may adtopt a Further Notice of Proposed Rulemaking that proposes a safe harbor for providers implementing network-wide blocking that fail to be authenticated using the emerging SHAKEN/STIR framework.
"Allowing call blocking by default could be a big benefit for consumers who are sick and tired of robocalls," Pai said in a press release. "By making it clear that such call blocking is allowed, the FCC will give voice service providers the legal certainty they need to block unwanted calls from the outset so that consumers never have to get them. And, if this decision is adopted, I strongly encourage carriers to begin providing these services by default—for free—to their current and future customers.  I hope my colleagues will join me in supporting this latest attack on unwanted robocalls and spoofing."
Some voice providers have held off on developing and deploying call blocking technology because they were uncertain whether those tools were legal, the FCC notes. The proposed rules aim to remove that barrier. According to the commission, third-party developers already have developed call blocking apps using analytical tools, and similar technology potentially could be used by the voice providers.
In March, AT&T and Comcast exchanged the first calls verified with SHAKEN/STIR technology. SHAKEN (Signature-based Handling of Asserted information using toKENs) was developed by the SIP Forum and the Alliance for Telecom Industry Solutions (ATIS). STIR (Secure Telephony Identity Revisited) was developed by the Internet Engineering Task Force. Together, they are designed to ensure that numbers displayed via caller ID are the number from which the call originated.
Joan Engebretson contributed information to this report.