There are 2,201 internet service providers (ISPs) that offer residential fixed terrestrial service at speeds of at least 200 kbps in at least one direction in the U.S., according to a recently released FCC report based on data as of year-end 2021. But only 11 of those providers cover 5% or more of the population.
Telecompetitor readers can probably name at least six or seven of the 11, maybe even nine or 10, with no problem. Former Bell companies AT&T, Verizon and Lumen are on the list, as are the nation's largest cable companies – Charter, Comcast, Cox and Altice. Tier 2 telcos TDS and Frontier are there, too.
That makes nine, and if you give it some thought, it's not difficult to come up with another one of the top 11. It's T-Mobile.
Remember we're not talking mobile service here. We're talking fixed terrestrial service. T-Mobile two or three years ago was almost strictly a mobile provider and didn't make the FCC's previous list based on date from year-end 2019.
More recently, though, the company has seen tremendous success with its fixed wireless offering, which is available in innumerable markets nationwide. According to the latest FCC data, T-Mobile wasn't just in the top 11, it was number one in terms of the percentage of the U.S. population covered.
The company covers 60% of the country's population, according to the FCC, followed by AT&T and Verizon, who each cover about 40%. Next are Comcast and Charter, covering 36% and 33%, respectively.
As the FCC notes, "there is a large falling-off in deployment coverage after the top five."
Lumen/CenturyLink is sixth at 17%, followed by TDS and Frontier who each have about 11%, and Cox and Altice, who each have about 7%.
Coming in at number 11 with about 5.4% of the U.S. population covered – fixed wireless provider JAB Broadband, also known as Rise Broadband.
T-Mobile and Verizon have been making all the fixed wireless headlines recently. The fixed wireless offerings of the two companies, combined, captured the lion's share of broadband net adds in recent months. But JAB's presence on the list underscores the important of the technology beyond the metro areas that are the primary markets for Verizon and T-Mobile.
Many of those 2,201 fixed broadband providers that the FCC tallied are small fixed wireless providers, some serving just a handful of customers. But JAB/Rise has been acting as a consolidator in that market, to the point where it made the top 11 list.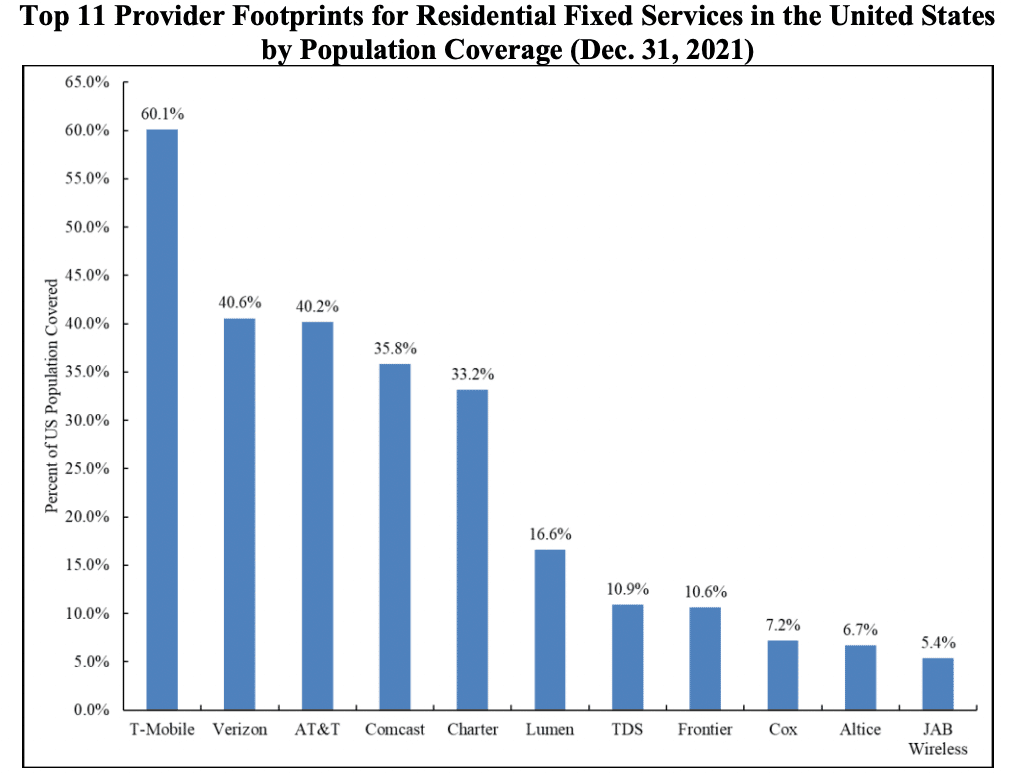 ISP Population Covered
Not among the top 11 providers, measured by population covered, according to the FCC report, titled "2022 Communications Marketplace Report": Consolidated, Windstream, any other rural telecom provider, any other wireless ISP, any other cable company or any electric company ISP.
It's also worth noting that Verizon covered only covered 17.3% of the U.S. population with terrestrial fixed wireless service in the previous FCC report from two years ago. The majority of that would have been the company's fiber broadband and DSL service in its traditional local service territory.
The upshot is that Verizon more than doubled its coverage in the past two years, thanks to its fixed wireless expansion.
It's important to note that the FCC didn't measure companies by number of customers, only by population covered. Nevertheless, the data is eye-opening and underscores the growing importance of fixed wireless in the broadband arena.