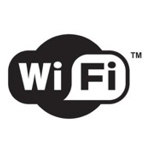 Wireless network operators as well as end users could see faster and higher-capacity WiFi if the FCC moves ahead on a proposal made today at the commission's monthly meeting that would free up additional spectrum in the 5 GHz band for unlicensed use. Also today the commission adopted an order to allow consumers and service providers to use repeaters to improve cellular network reception.
The WiFi proposal
The WiFI proposal described in a notice of proposed rulemaking adopted by the FCC would make 195 MHz of spectrum in the 5 GHz band available on a shared and unlicensed basis. Some existing Wi-Fi equipment operates in a different part of the 5 GHz band, while other W-Fi equipment operates in the 2.4 GHz band.
The proposal would entail a range of technical requirements aimed at preventing interference problems with existing government users who would continue to use the spectrum. Technical requirements that would have to be built into the new WiFi equipment could include transmit power control, dynamic frequency selection and the use of dynamic databases similar to what have been implemented in the TV white spaces band.
According to FCC Chairman Julius Genachowski, the total spectrum available for WiFi use would increase by 35% if the proposal were adopted.
Several FCC commissioners stressed the importance of making more spectrum available for WiFi to address current or anticipated congestion problems in existing WiFi bands.
"Wi-Fi congestion is a real and growing problem," said Genachowski, who also noted that 33% of cellular traffic is currently offloaded to Wi-Fi – a number that is expected to climb to 46% within a few years.
Cellular repeaters
The cellular repeater order adopted today details requirements for two different types of repeaters – one that could be installed by end users and another for use by network operators or for industrial use such as in stadiums, airports, hospitals and university campuses. FCC officials said they anticipate the repeaters being used to help improve reception in rural areas.
The repeaters will be required to meet standards developed with the cooperation of the cellular network operators aimed at preventing interference with cellular network equipment. All four nationwide cellular operators – AT&T, Sprint, T-Mobile and Verizon— and 90 rural cellular operators have agreed to allow the repeaters to be used on their networks.