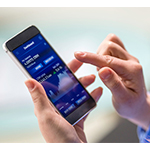 Americans last year used 82% more mobile data than they did during 2017, according to mobile data usage findings from the CTIA's 2019 Annual Wireless Industry Survey.
Usage was up across almost every metric, according to the press release. "Americans are consuming more wireless data than ever," said Meredith Attwell Baker, President and CEO, CTIA. "This exponential growth underscores the need to continue to free up spectrum to keep up with demand, and provide the much needed capacity for next-generation 5G networks."
The CTIA outlined five key takeaways in the press release.
First, it found that consumers used 28.58 trillion megabytes of mobile data last years. That figure is 73 times more than what was used in 2010.
The second finding was that the wireless industry invested $27.4 billion in 2018, a massive increase over the $1.8 billion invested the previous year. Since 2010's launch of 4G, the industry has made capital investments of more than $253 billion.
The third finding is that the 5G is increasing  the number of operational cell sites. The total increased by more than 25,000 last year, the most since the year-over-year increase in 2010-2011, when 4G was being deployed. There currently are 349,344 operational sites.
The fourth finding is that per consumer connections are increasing. Last year, 421.7 million devices were connected. That's an increase of 21.5 million from the prior year. The biggest single device was smartphones, with 284.7 connections. Data-only devices were the fastest growing. This category, which includes smartwatches, IoT devices and connected cars, grew by 10% to reach 139.4 million devices.
Finally, the press release says that voice calling and traditional texting also gained. Consumers talked on their devices for almost 2.4 trillion minutes last year, which was almost a 10% gain from 2017. They exchanged more than 2 trillion SMS and MMS text messages, which was almost 16% more than in 2017.
The CTIA findings underscore similar findings from Ericsson. Last November, Ericsson said that mobile traffic had grown almost 79% between the third quarter of 201 7 and the same quarter in 2018.