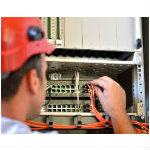 Consolidated Communications will upgrade and expand the broadband infrastructure in Brooklin, Maine through a public-private broadband partnership with the rural community.
The company and town have designed an incremental network build that will add fiber, upgrade equipment and provide network backups. The entities will share construction costs on the project, which is expected to be completed by June 2020.
"We've been working closely with Brooklin town leaders to find an innovative alternative broadband solution for their community," Rob Koester, Consolidated Communication's vice president of consumer product, said in a press release. "Consolidated Communications believes arrangements like this one are quickly becoming the model for improving and expanding broadband services in rural communities, and we're very excited to be at the forefront of its design and implementation."
In 2017, Consolidated Communications executed four projects for the town under the CAF II program. The FCC program provides funding enabling voice and broadband services providers to subsidize building or upgrading infrastructure where high-speed broadband is unavailable. Consolidated Communications says it has completed 304 CAF broadband projects in Maine.
The town of Brooklin sees the public-private broadband network helping the community to be ready for the future. "We're choosing the approach that best fits not only our present needs, but one that helps us plan for the future. Consolidated Communications' willingness to work with us on this cooperative solution is an innovative example of how collaboration between service providers and communities can solve one of the most vital challenges towns like ours experience," Bill Cohen, the chairman of the Brooklin Select Board, said in the press release.
Last week, Consolidated Communications said that it launched 1 Gbps broadband service in its eastern New York footprint. The initiative is supported by a grant from the New NY Broadband Program, which aims to increase last mile services in underserved and unserved areas.