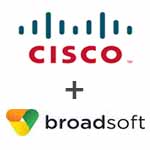 Cisco announced a definitive agreement to acquire Broadsoft for $1.9 billion, or $55 a share, assuming fully diluted shares including conversion of debt. The Cisco Broadsoft acquisition has been approved by the board of directors of each company.
The acquisition is expected to close during the first quarter of the calendar year 2018, subject to customary closing conditions and regulatory review.
Cisco Broadsoft Acquisition
According to a Cisco blog post, the acquisition will help the company deliver the next generation of collaboration experiences, including meetings, messaging, calling capabilities and contact center touchpoints, to all workers across the network. The deal also helps Cisco diversify away from its traditional switches and routers business, which has been slow for quite some time, keeping a lid on the company's stock price.
BroadSoft provides a portfolio of cloud collaboration platforms and business applications, which could strengthen Cisco's cloud investments and the company's ability to deliver collaboration solutions to global telecom provider customers. Following the close of the acquisition, Cisco and BroadSoft will provide a comprehensive SaaS portfolio of cloud-based unified communications, collaboration, and contact center software solutions and services for customers of all sizes.
According to Cisco, the combination of BroadSoft's open interface and standards-based cloud voice and contact center solutions delivered via Service Provider partners, and Cisco's meetings, hardware and services portfolio, will enable the combined company to offer best-of-breed solutions for businesses of all sizes and deliver a full suite of collaboration capabilities to power the future of work.
Cisco added that collaboration is the first step in business digitization. Cisco said that BroadSoft's portfolio is complementary to its existing on-premises and enterprise-centric Hosted Collaboration Solutions (HCS), as well as Cisco's overall cloud investment strategy.
"Together, Cisco and BroadSoft will deliver a robust suite of collaboration capabilities across every market segment," said Rowan Trollope, senior vice president and general manager of Cisco's Applications Business Group, in a prepared statement. "We believe that our combined offers, from Cisco's collaboration technology for enterprises to BroadSoft's suite for small and medium businesses delivered through Service Providers will give customers more choice and flexibility."