The FCC is considering upping the broadband speed benchmark that it uses to gauge whether broadband is being deployed to all Americans in a reasonable and timely fashion. That benchmark is currently set at 4 Mbps downstream and 1 Mbps upstream.
On August 1 the FCC adopted a notice of inquiry, released on Tuesday, which asks for input on whether the commission should consider latency and data usage allowances as well as download and upload speeds in its broadband benchmark. Additionally the commission asks for input on whether it should establish separate benchmarks for fixed and mobile service and "under what circumstances mobile service may itself satisfy the definition of advanced telecommunications capability and therefore serve as a functional equivalent for fixed broadband."
FCC Broadband Speed Target
The 30-page NOI includes an interesting chart showing the FCC's estimate of the bandwidth requirements for a three-person household at peak usage time. Such a household making "moderate use" of broadband could consume nearly 8 Mbps downstream and more than 1 Mbps upstream, according to the chart, while a low-use household might consume only 4/.65 Mbps and a high-use household might consume 10/2.9 Mbps.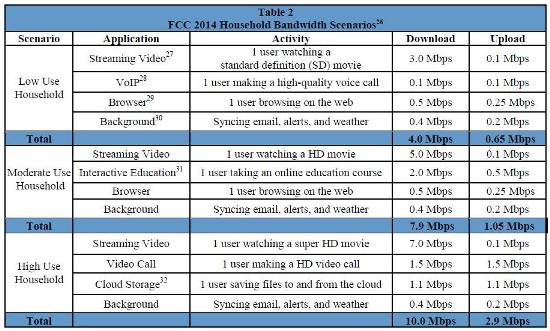 Examples of how the "moderate use" household might consume broadband include:
1 user watching an HD movie
1 user taking an online education course
1 user browsing on the web
Background synching of email, alerts and weather
"We seek comment on setting a speed benchmark based on our assessment of common household broadband use," wrote the FCC in the NOI.
For nearly a decade the FCC issued annual reports to document the nation's progress in deploying broadband, but the commission hasn't issued such a report since mid-2012. At that time the FCC issued an earlier NOI asking about revamping its broadband definition but since then the commission has neither revised its definition nor issued an updated report.
For the last three years in which the report was issued the commission made the determination that broadband was not being deployed in a reasonable and timely manner – and the commission faces a bit of a dilemma as it contemplates issuing a new report and issuing a new determination about the pace of broadband deployment.
On the one hand, it might be in the commission's interest to determine that broadband isn't being deployed quickly enough, thereby supporting the commission's efforts to convert today's voice-focused Universal Service program into a broadband-focused Connect America Fund. On the other hand, a negative determination about broadband progress might call into question why the nation spent $7 billion on the broadband stimulus program, which has now been largely completed.
How the FCC defines broadband for its annual broadband report  – including whether it includes latency and data allotment requirements – ostensibly only impacts that report. But it's important to note that the commission also has asked for input on how it should define broadband for the Connect America Fund – and I would think it would be difficult to justify two different definitions of broadband for those two different initiatives. The question of whether wireless or satellite services are equivalent to wired broadband is particularly important, as the answer could have a big impact on how the CAF program plays out.