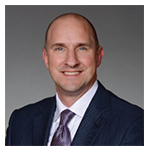 Windstream has set some aggressive targets for increasing broadband speeds available to consumers and small- and medium-size businesses (SMBs). While 69% of Windstream broadband customers can get service at speeds of 10 Mbps today, the number will increase to 88% by year-end, noted Windstream CFO Bob Gunderman in a presentation to investors at Barclays 2016 High-Yield Bond Conference today, which was also webcast.
The number of customers who can get service at speeds of 75 Mbps or higher will nearly double – from 8% to 15% — in 2016, according to a slide from Gunderman's presentation.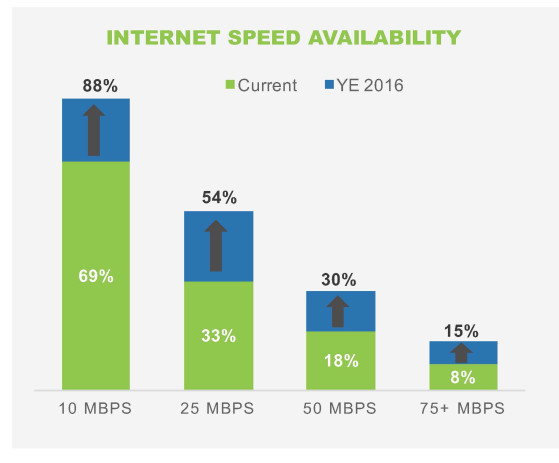 Windstream Broadband Revenue Trends
The details about Windstream broadband speed targets came just a few weeks after Windstream CEO Tony Thomas noted at a different financial conference that the company lost 35,000 broadband lines in 2015.
At that time, Thomas also noted that the company was counting on higher broadband speeds to reverse that trend. Although he said the company still expected line losses for 2016, the loss rate would be half that of 2015 – and by 2017 it would be flat.
Gunderman didn't detail the latest Windstream broadband line figures at today's event. But interestingly, consumer service revenues for the first quarter of 2016 were up slightly from the fourth quarter of 2015 – from $311 million to $312 million.
If we assume the company is still losing some broadband lines as Thomas forecast, that means the company is seeing revenues from broadband speed upgrades that are sufficient to make up for revenue losses resulting from broadband line losses – on the consumer side at least. With that in mind, it's no surprise the company is making it a priority to upgrade broadband line speeds.
Gunderman pointed to Windstream's expansion of gigabit services and its Kinetic IPTV offering as drivers of consumer revenue growth.
Windstream's SMB ILEC revenues were down for first quarter, however, suggesting that SMBs aren't seeing the need to upgrade broadband speeds to the same extent that consumers are seeing.
Windstream separates results for larger businesses into a separate enterprise category – an area where the company sees ongoing growth potential. The company saw a 3.3% year-over-year increase in enterprise revenues in the first quarter, according to Gunderman's presentation.