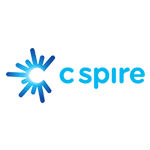 C Spire Home is bringing its Gigabit FTTH platform to the Mississippi markets of Saltillo and Gulfport, with plans to add Biloxi to C Spire markets beginning next year. The expansion will cover roughly 78K households in total.
Saltillo, a small town in the northeast area of the state, is a suburb of Tupelo in Lee County. Work on the FTTH platform is slated to begin in early November, with customer services starting by the first quarter of 2020.
Work in Gulfport also will begin next month, with expansion to areas of neighboring Biloxi early next year. Initial Gulfport subscribers will be turned up during the first quarter of next year. Thousands of homes will be passed in Harrison County – the state's second most populous – by next summer.
The projects, which will provide subscribers with Internet access, live streaming TV and premium digital phone service, represent the 23rd and 24th C Spire initiatives in Mississippi. The company says it will add to its 9,200 route miles of backbone fiber in the state. The Harrison County project will cover 20 "fiberhoods" and a majority of the two cities' households. The Lee County project will cover much of the county's 32,000 households and many "fiberhoods," though the press release doesn't offer a precise number.
C Spire says that recent studies found that Gigabit speeds can add $5,437 – 3.1% — to the price of a $175,000 home.
C Spire, both a regional wireless carrier and fiber broadband carrier, has made several recent announcements regarding its broadband strategy:
In March, the provider brought its FTTH to The Highlands, a residential subdivision in Jones County. It is outside the city of Ellisville and represented C Spire's first foray into southern Mississippi.
In January, Telecompetitor discussed C Spire's broadband consortium with Chief Innovation Officer Craig Sparks. Partners in the initiative are Microsoft, Nokia, Airspan Networks and Siklu.
In October, 2018, Indatel Services expanded its regional networks by adding C Spire. At that point, C Spire added 8,600 route miles across Mississippi, Alabama and Tennessee. C Spire brought multiple data centers and major locations in 12 cities to the Indatel network.