C Spire said Friday it will deploy 4G LTE service in parts of south Alabama and northwest Florida that cover nearly 3,000 square miles and a population of 687,000. A company spokesman confirmed that the deployment is not being made in the 700 MHz A-block – making C Spire one of several companies, including Verizon Wireless, that has A-block spectrum sitting unused.
In an email to Telecompetitor, the spokesman wrote:
"C Spire Wireless is not using its 700 MHz licenses for its recently announced LTE expansion.  Unfortunately, the 700 MHz interoperability issue remains unresolved despite the fact that it has been pending before the FCC for nearly four years.  The lack of interoperability in the Lower 700 MHz spectrum makes a deployment on that spectrum infeasible at this time for C Spire and virtually every other 700 MHz A Block licensee."
Originally international standards called for the A-block to share components with the 700 MHz B- and lower-C blocks. But AT&T, citing interference concerns, persuaded standards bodies to create a separate band supporting only the B-block and lower-C block. Smaller carriers that hold A-block spectrum dispute those claims and C Spire reportedly went so far as to sue AT&T about this and other A-block issues.
C Spire and other A-block license holders have complained that they have had difficulty obtaining mobile devices that can operate in the A-block at reasonable prices, if at all, because the volume of devices required is lower than it would have been if all carriers had adhered to the original band plan.
U.S. Cellular has deployed LTE in the A-block in some markets and has acquired several devices conforming to the original band plan that are capable of operating in the A-block, B-block or lower C-block. But that company's device portfolio is considerably smaller than that of AT&T and other large carriers.
U.S. Cellular has not deployed LTE in A-block markets that have a television station operating on channel 51, which according to AT&T, causes interference problems. Approximately 30 of more than 200 TV broadcast markets in the U.S. have a broadcasters using that channel.
Smaller A-block licensees, including C Spire, also have complained that their nationwide roaming options are limited because AT&T does not want to allow devices capable of using the A-block on its network. AT&T says channel 51 interference is a concern with such devices (in channel 51 markets at least) even if the devices do not use the A-block spectrum band but instead use AT&T's B-block or lower C-block spectrum. U.S. Cellular has deployed LTE in the B-block in some channel 51 markets and says it has not experienced the problems AT&T describes.
Verizon Wireless holds a large amount of A-block spectrum it has not yet deployed. Although the company largely has stayed out of the A-block dispute, the company has said deployment in that band has a low priority.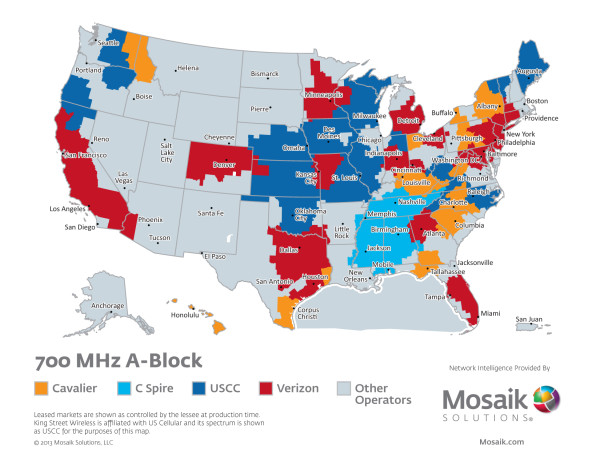 FCC Commissioner Mignon Clyburn, who became acting FCC chairman last week, has been a strong advocate for mobile device interoperability so one might expect her to take action to resolve a proceeding about interoperability in the lower 700 MHz band that has been pending for more than a year. The issue is taking on increased urgency as carriers holding A-block and B-block spectrum face build-out deadlines that kick in later this year.