Mignon Clyburn has been the strongest advocate for mobile device interoperability on the Federal Communications Commission and now that she has been appointed acting chairwoman – a position she could hold for several months – AT&T saw fit to reiterate its arguments against interoperability in the lower 700 MHz spectrum band in a blog post on Monday.
"AT&T has conducted rigorous testing and engineering analyses, and those tests and analyses make very clear that at typical real-world power levels, Channel 51 transmissions would substantially degrade our LTE service – creating LTE 'no call zones' – if AT&T were required to use chipsets that enabled A-block receptions," wrote AT&T Senior Vice President – Federal Regulatory Bob Quinn in the blog post.
U.S. Cellular, however, has deployed devices using the exact chipset AT&T is fighting and a U.S. Cellular spokeswoman told Telecompetitor yesterday that the company has not experienced the problem that AT&T describes.
A bit of history
AT&T owns spectrum in the 700 MHz B- and lower C-blocks where the company has been deploying LTE service. The carrier has used devices that operate in those blocks but not the adjacent A-block which, according to AT&T, is prone to interference in markets that have a TV station operating on Channel 51 (about 30 out of more than 200 TV broadcast markets in the U.S.)
When band plans for 700 MHz spectrum were originally created, the A, B and lower C blocks were intended to share a common band (Band 12) and to share device components. But AT&T persuaded standards bodies to create a separate band (Band 17) containing only the B and lower C block because of the Channel 51 interference concerns.
Many small wireless carriers own A-block spectrum and say they have had difficulty getting mobile devices at reasonable prices because their volumes alone are relatively small. Verizon Wireless also holds A-block spectrum but has not built it out.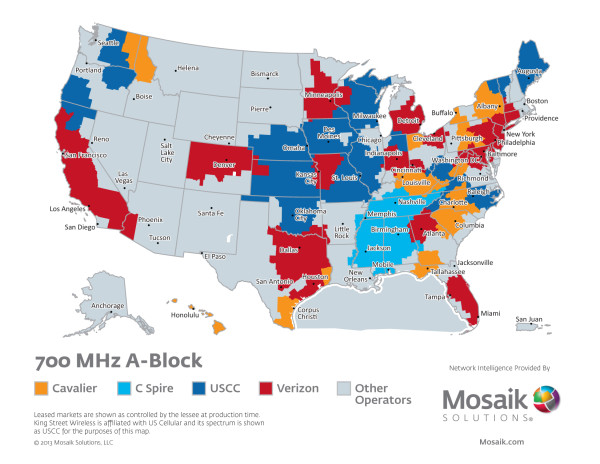 AT&T's argument
The FCC has been considering taking action to increase interoperability in the lower 700 MHz band, which could include requiring B- and lower C-block licenses to use Band 12 devices that also support the A-block. AT&T owns most of the lower C-block and a large portion of the B-block and is the carrier that would be primarily impacted by such a requirement.
AT&T doesn't want to use Band 12 devices, arguing that the ability of a device to support A-block transmission makes the device vulnerable to Channel 51 interference even if the A-block is not used. For support the company references a report written by V-COMM. Small wireless carrier organizations dispute the report findings, as does U.S. Cellular.
U.S. Cellular owns both A-block and B-block spectrum and has deployed LTE in some A-block and some B-block markets. The company was one of the first, if not the first, carrier to obtain smartphones operating in Band 12.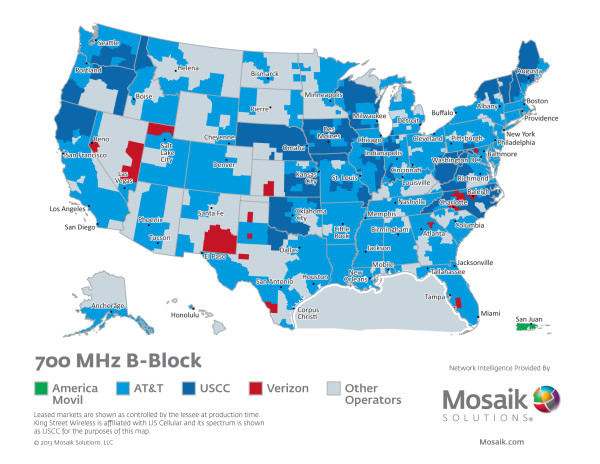 U.S. Cellular has not built out the A-block in any markets that have a Channel 51 broadcaster. But a U.S. Cellular spokeswoman confirmed today that the company has deployed LTE in the B-block in some markets that have a TV station operating on Channel 51.
"Our experience operating LTE networks using B-block spectrum in markets with an operating Channel 51 TV station has confirmed that there are no interference issues," the U.S. Cellular spokeswoman wrote in an email to Telecompetitor.
AT&T, meanwhile, disputes small wireless carrier claims about the difficulties of obtaining Band 12 devices, pointing to U.S. Cellular's offerings to support that argument. U.S. Cellular offers several Band 12 devices, including some popular models — although its device portfolio is not as broad as that of the largest national carriers AT&T or Verizon Wireless.
Roaming issues
There is another move the FCC could make to improve lower 700 MHz interoperability instead of, or in addition to, mandating the use of Band 12 devices – and that would be to require licensees holding lower 700 MHz spectrum to allow Band 12 devices to roam on their network. This would enable small carriers that own A-block spectrum to offer their customers near-nationwide coverage – something they cannot offer today – via AT&T's network. According to small carriers, AT&T currently does not allow Band 12 devices on its network, even if they belong to customers of another carrier.
The FCC already has indicated that Channel 51 would be the first to be cleared through the impending voluntary broadcast spectrum incentive auction – at which time interference questions relating to that Channel and the lower 700 MHz band will be moot. Referencing those plans, AT&T's Quinn said in this week's blog post that "we are relatively close in time to a real solution to this problem."
Clyburn appears to have a different view of what would be a timely solution, however.
More than a year ago she said she hoped the FCC would "move as quickly as possible to achieve full inter-operability in the lower 700 MHz band" and that she hoped for a solution by year-end 2012.