Broadband speeds are quite high in many areas of the U.S. today – but so are prices. That's the key takeaway from new broadband speeds and pricing research from BroadbandNow Research. Half of Americans now have access to broadband at speeds of 500 Mbps or above. But less than half of Americans (48.5%) have wired broadband available at $60 or less per month, researchers said.
Researchers defined broadband to include service providing speeds of at least 25 Mbps downstream.
Availability of 500 Mbps service varies considerably from one state to another. More than 90% of people in Delaware (97%) and the District of Columbia (99%) have 500 Mbps service available to them, followed by Maryland (89%), Utah (87%) and Illinois (85%). But at the other end of the scale, only 5% of people in Connecticut can get 500 Mbps service, and only 7% of people in Wyoming and Montana can do so.
BroadbandNow Research based its findings on data compiled from public sources and available through the BroadbandNow website, which was originally focused on enabling consumers to find information about internet providers in their area.
Broadband Speeds and Pricing Research
Only 5.5% of Americans have broadband available at $40 per month or lower, according to BroadbandNow. That number rises to 11.9% for service costing $50 or less.
Less than three-quarters of Americans (71.7%) have access to broadband at $70 or less, and 87.6% can get broadband at $80 or less.
Three states – Alaska, Maine and Montana – do not have broadband available from any provider at a cost of $60 or less, according to BroadbandNow.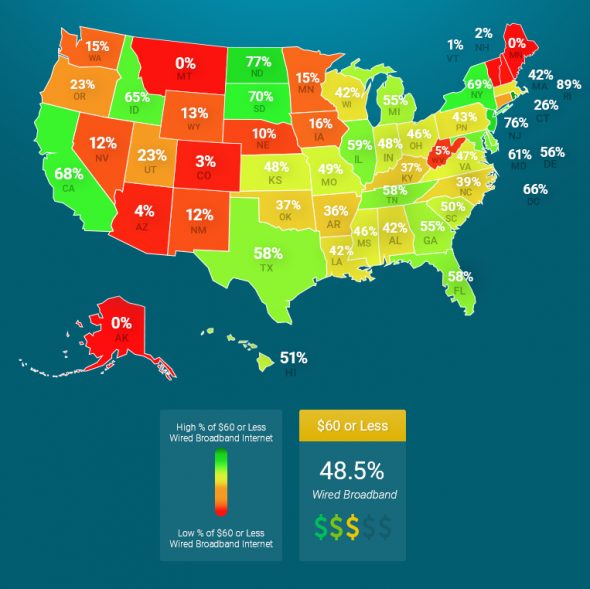 When it comes to speed, nearly one-fifth of Americans (19.7%) can now get gigabit broadband service and nearly three quarters (74.8%) can get 250 Mbps service, according to BroadbandNow. And more than 90% can get 100 Mbps, including 90.3% who have access to wired offerings and 90.8% who can get access to non-satellite services. The latter number apparently includes wired and fixed wireless offerings.
According to the BroadbandNow research, 93.9% of Americans can get service at speeds of 25 Mbps from a non-satellite provider.
It's not surprising to see that high-speed service is available throughout large parts of states in which a large percentage of the population lives in urban areas. Broadband technology has made some significant speed gains in recent years as cable companies upgrade to DOCSIS 3.1 technology and telcos have made gigabit fiber-to-the-home available where they see a business case for the investment.
Perhaps it's also not surprising that service providers have not been aggressive in offering low prices for broadband. At a time when consumers increasingly are canceling voice, pay-TV and lower-speed broadband, service providers increasingly see upgrades to higher-speed (and higher-cost) broadband services as their best option for revenue growth.