Increases in the speeds that Windstream broadband services can support drove a 5% increase in average revenue per user (ARPU) among existing customers, said Windstream CFO Bob Gunderman yesterday. Gunderman made his comments at the Deutsche Bank Leveraged Finance Conference, which was also webcast.
Windstream also expects broadband upgrades to help reverse market share losses that the company has been experiencing.
"Having a better speed profile will help us pull share back in our direction," Gunderman said.
Windstream Broadband
Windstream got serious about upgrading broadband speeds when it launched Project Excel. Among other things, Project Excel calls for enhancing copper infrastructure by bringing fiber to neighborhood nodes and deploying VDSL2 bonding technology.
Project Excel is now 30% complete, with additional construction planned for completion this year. Nearly 90% (88%) of the company's residential base will be able to receive broadband speeds of at least 10 Mbps downstream and 1 Mbps upstream by the end of 2016, Gunderman said. Currently that percentage is 69%.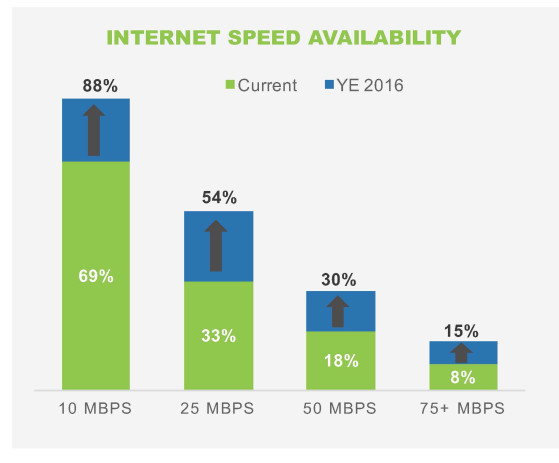 Windstream also is receiving funding through the Connect America Fund program toward the costs of deploying broadband to 470,000 locations in areas that are particularly costly to serve and where broadband isn't available today or is available only at low speeds. With an average population density of 13 people per square mile, Windstream has a lot of high-cost areas.
Despite relatively high deployment costs, however, serving sparsely populated areas comes with certain market advantages. Gunderman yesterday offered the latest update to a couple of numbers that Windstream is fond of quoting: The company faces broadband competition from a national cable company in just 41% of its footprint. In 38% of Windstream's footprint, the company's cable competitor is a small operator and in 17% of its footprint, Windstream has no cable competition at all.
Gunderman noted that Windstream also continues to invest to support its enterprise business, which has been an important focus for the company in recent years. Improving margins in that portion of the business has been an important initiative for Windstream, and according to Gunderman, the company is eying HFC and fixed wireless as potential investment areas that could be accompanied by "attractive customer and margin profiles."