Nearly a quarter (23%) of Americans can get gigabit service and more than two-third (67.1%) can get 500 Mbps service, according to new Q3 2019 broadband availability research from BroadbandNow. Availability of these high-speed services increased considerably from Q2, when 19.7% of Americans could get gigabit service and half could get 500 Mbps service.
BroadbandNow maintains a database of broadband availability by provider and by speed and price, which is the basis for its research. The latest research is summarized in BroadbandNow's report titled "The State of Broadband in America, Q3 2019."
Lower-speed broadband also saw increases in availability between second and third quarter, although they were not as dramatic as the increases for higher-speed services. BroadbandNow defines broadband to include non-satellite services providing speeds of at least 25 Mbps downstream. Based on that definition, 94.4% of Americans now have broadband available to them, up from 93.9% in second quarter.
Broadband Availability Research
While increased broadband availability is good news for consumers, BroadbandNow researchers also noted a less positive trend: Lower-priced services are in decline.
Researchers consider broadband service priced at $60 or less to be a "low-priced service." And the research shows that providers are more likely to increase the price of these services than they are to decrease prices. Among those providers that changed the price on a low-priced offering in 3Q, 62% increased the price to an amount higher than $60.
Although there was a slight increase in the number of people who have a low-priced service available to them (52%, up from 48.5%) that increase may have come at the expense of the lowest-priced plans. While 5.5% of Americans had access to service costing $40 or less in second quarter, that percentage dropped to 4.6% in third quarter – and as the report explains, that means 2.7 million fewer Americans can get service for $40 a month or less.
Availability of low-cost services varies considerably from one state to another, however. There were five states in which at least 70% of the population has low-cost broadband available to them – including California, North Dakota, New York, New Jersey and Rhode Island. In addition, 75% of people in Washington D.C. can get low-cost broadband.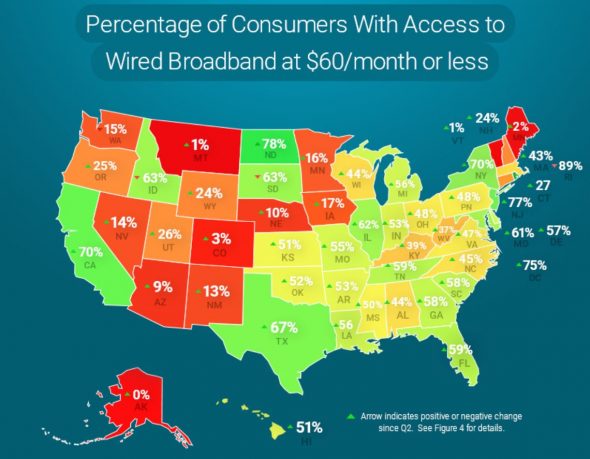 At the other end of the spectrum, Alaska has no provider offering low-cost service, but two other states that were in that situation in second quarter now have limited low-cost broadband availability. Two percent of people in Maine and 1% of people in Montana can now get low-cost broadband.
Other states in which less than 10% of the population can get broadband at $60 or less include Arizona, Colorado, and Vermont.