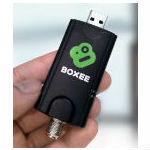 Boxee, the OTT video platform, is developing a new add-on live local broadcast TV dongle that enables users to connect an antenna to their Boxee Box to watch live broadcasts from ABC, CBS, Fox and NBC in HD with no monthly fee. The new USB dongle is an interface between an over-the-air antenna for local broadcast channels and their Boxee set-top-box, providing an integrated content experience.
The way Boxee sees, it's the lack of live sports, local news and special events that's really holding back a lot more cable subscribers from 'cutting the cord.' "But these things are all available on broadcast TV channels like ABC, CBS, Fox, and NBC for free, over the air in HD," points out Boxee's Avner Ronen on the company blog.
"With Boxee Live TV you can watch them all on your Boxee Box (and still get all the regular Boxee stuff you love to watch too)."
Eighty-nine of last year's top 100 shows were shown on broadcast networks, he added, and they remain the most popular shows on cable as well. Ronen asserts that if cable subscribers made a list of the programming they actually watch, they'd find that most are available on broadcast, along with content that's available on OTT services via the Internet, such as Vudu and Netflix.
Boxee's proposal essentially boils down to this: Viewers can save a significant amount of monthly expenses by either canceling their cable subscriptions outright or scaling down to basic cable service, and combining that with broadcast TV and OTT Internet TV services using a Boxee Box by D-Link, which costs $179.99, or building one for free by installing Boxee's software on a computer,
Despite cable companies saying that cord cutting isn't for real and industry research supporting that claim, Boxee thinks cord cutting is a trend that's just emerging, one that has legs.
"We are sure they [industry researchers] are conducting objective and unbiased research, but we are meeting more and more 'cord never getters' and 'cord cutters' every day. They are more than just people tightening their belts in tough economic times, these are people who have left cable TV behind because it does not fit their lifestyle. They are part of a changing culture, with a changing expectation of how they watch the shows they love," Ronen wrote.
Despite cable MSO/IPTV/ DBS innovation, they're ultimately more interested in protecting their well-established hold on subscribers than they are "delivering a great experience to their customers," Ronen asserts.
Here's Ronen's list of what cable companies force customers to accept:
High (and constantly rising) prices
A bad user experience on old set-top boxes
Signing up for a $79 package but getting billed $104.26
Taking off work to wait for hours for an installation guy who shows up late
Pushing you to get triple-play including phone service (you don't want) to get a lower price, only to see your bill double after 6 months
Letting you sign up on their website, but making you call them to cancel, and
Making you physically return the set-top box during working hours in a remote part of town.
"There is a better way for you to get TV," Ronen writes. "And we think Boxee with Live TV can deliver that promise…
"We believe the combination of Netflix/Vudu/Vimeo/TED/etc. with over-the-air channels delivers a much better experience for less money."
Boxee's taking pre-orders for its Live TV stick for $49 at http://www.boxee.tv/live.