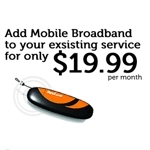 BendBroadband, a central Oregon based cable MSO, has launched a mobile broadband product that it claims offers the fastest mobile broadband in the U.S. today.
BendBroadband has deployed a 3G HSPA+ wireless network, which they say delivers 15 Mbps under optimal conditions, and average download speeds, depending on customer location, of between 6 and 8 Mbps. Both T-Mobile and AT&T are currently building HSPA+ networks, with limited availability in certain markets.
BendBroadband plans to use their mobile broadband network for both fixed in-home services, as well as mobile broadband. They are emphasizing broadband over voice, and currently only offer laptop mobile broadband connectivity, as opposed to offering both broadband and traditional voice service for their mobile wireless offering.
They also intend to use the wireless network to offer a double play of voice and broadband to homes. "With this new wireless technology, BendBroadband will also reach homes inside their cable footprint which have not been economically feasible to serve via traditional fiber-coax cable infrastructure," they say in a press release.
It's an interesting approach. Use mobile broadband infrastructure for both in-home and mobile services. They not only expand their footprint for in-home services, but can differentiate their broadband product over wireline competitors by having both a fixed and mobile broadband bundle.
It's the same strategy being pursued by their larger cable brethren, Comcast and Time Warner cable, with their recently launched WiMAX offerings. Bundle mobile broadband with home wireline broadband to create a differentiated broadband product. For some customers, BendBroadband will use all wireless infrastructure to create this fixed-mobile bundled approach.
BendBroadband's pricing for the fixed modem wireless Internet service ranges from $39.99 to $74.99 per month. They intend to bundle the mobile broadband option for $19.99/month. They also intend to offer home voice service over the mobile broadband network, ranging in price from $18.99 to $38.99 per month.
This BendBroadband move also illustrates that the move to wireless and mobile broadband within the cable MSO community is in full swing and is not just limited to the national players.