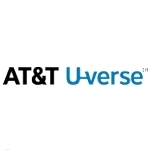 AT&T recently hosted its 2012 Consumer Industry Analyst Conference in Atlanta, the company's first such event.   Attendees received updates on the latest AT&T services and devices, including its U-verse TV IPTV service.  AT&T also briefed us about several recently-announced "beyond TV" service initiatives – some of which are poised to launch during 2013 – as well as a peek into the near future.   This is the first of two posts about the event.
Each AT&T executive presenter emphasized the value of the company's most strategic asset – its all-IP network – which increasingly provides a single platform for all of its service initiatives; over any access.  Going forward, it will provide efficiencies and synergies that AT&T believes can't be duplicated by using separate silos for individual services.  AT&T's strategy is to build new initiatives from 'adjacent' market opportunities, in which its network will enable the company to disrupt the model of each new market segment that it enters.
One way AT&T "disrupted" an existing service model was through the Apple iPhone, which was offered exclusively by AT&T for its first several years of availability in the U.S.  Smartphones have become so ubiquitous that many don't recall how fundamentally the iPhone changed mobile telephony.  AT&T uniquely enables iPhone users to talk and exchange files and messages at the same time.  This may seem a small thing, but simultaneous voice and data capability adds convenience.
U-verse TV update
U-verse TV is another example of how AT&T has disrupted an existing service model – this time, pay TV.  AT&T predecessor SBC Communications began building U-verse atop its Project Lightspeed broadband network in 2004 and initiated commercial U-verse service via controlled release in San Antonio in December 2005.  With 4.34 million video subscribers and still growing rapidly, AT&T is now the seventh largest pay TV provider in the United States.  The service reached that position in less than seven years (Verizon has reached #6, with 4.59 million; in about the same length of time).
AT&T product managers demonstrated several U-verse features, starting with Multiview, which presents news, sports, kids, and other programming genres, with four different channels on screen at one time.  Any of them can be brought full-screen.  A "My Multiview" feature allows subscribers to create their own customized Multiview lineups with as many as 72 channels.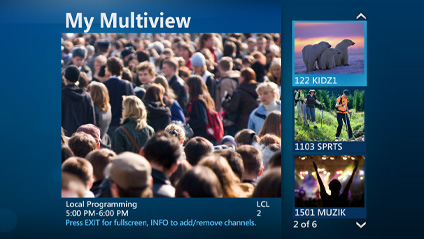 Building from there, users can select "Go Interactive" via the remote control, or use Apple iOS-based smartphone  or iPad devices to select special-interest TV apps; some of which are always available.  Others are seasonal or available for a limited time, such as 2012 London Olympics programming, the Masters golf tournament, Chicago Cubs baseball; and a Santa Tracker that provides a TV portal to Santa's Workshop, Christmas-related games, sing-alongs, and ads from business partners.
AT&T's Facebook app, released in August, scrolls a Facebook user's wall on the TV screen (which can be disabled by the user for privacy).  Users can "Like" a program, share program information with friends, and update their Facebook status via the TV.   Up to ten Facebook accounts can be associated with each U-verse household.  Facebook is U-verse's fifth social TV app, following Buddy TV Guide, Miso, Wayin and TV Foundry, which were announced last fall.

U-verse Enabled second screen apps
U-verse Enabled second-screen apps  are designed both to foster greater loyalty from existing U-verse subscribers and to provide new revenue potential for AT&T.  Although they didn't give specifics, AT&T representatives attested that the interactive apps have significantly reduced churn.  The AT&T U-verse App, their first, enables users to view the program guide, select programming, control the DVR remotely, and view AT&T's VOD library.  According to AT&T, about 80% of the available programming consists of full episodes, while the rest are trailers and other short-form content.
Three modes of second screen interaction are supported: selection from the guide, direct entry of the channel number, and through 'swiping' gestures.  Selected on-demand programming can also be viewed on the second screen device, but not live or DVR'ed TV content due to content restrictions outside of AT&T's control.  The U-verse App also allows users to know or select what's being watched on each TV in the home.
AT&T also has worked directly with a number of content providers to create experiences that are unique to AT&T.  One was the AT&T 2012 Olympics interactive TV app, which was co-developed with NBC Universal and was AT&T's most popular app this year.  Unlike the NBC Universal "Live Extra" app, which was also offered by AT&T but available only on second-screen devices, the AT&T U-verse interactive TV app provided Olympics-related notifications via a "pop-up" strip on the TV (even if users were watching other programming) and users could click on them to view that Olympics-related content.  Pop-ups are activated using IP signaling, not via audio fingerprints or automated content recognition – the benefit being that the signals can be embedded with the content, so they persist if the content has been recorded to the DVR.  Pop-ups can also be configured to include QR-codes that take second-screen users to advertising and other content.
We also saw AT&T's new U-verse Easy Remote  app, which applies the second screen remote control concept to provide better accessibility for people with hearing or visual deficiencies, and allows users to select programming using a speech recognition technology developed by AT&T Labs.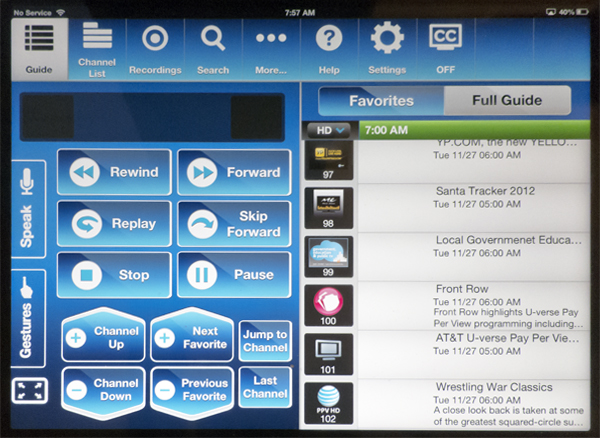 AT&T also demonstrated its U-verse TV second-screen user interface for Packet Video's Twonky Beam service.  This gives U-verse subscribers access to "over the top" Internet video content on the TV, without the need for a separate "OTT" streaming video CPE device.   Rather than coming to the TV through the U-verse set-top box or its Microsoft Mediaroom middleware, content delivered into the home via Twonky Beam goes through the broadband wireless router directly to the user's iPad, which in turn "serves" the content to the TV.
Additional proof-of-concept applications have been developed by AT&T Labs, to enable multiple second-screen users to interact with a single TV simultaneously.  One is a Texas Hold-em poker game, where the table is on the TV screen and each tablet user holds a hand of cards.  Another is a "brokered jukebox," where guests can bring their own music collections on their mobile devices, and play them through the TV.
AT&T Labs is also experimenting with apps that might enable people to play videos and view photos residing on their smartphones or tablets, on the TV.  And in reverse to Twonky Beam, AT&T Labs is also looking at ways that U-verse can mediate the process of moving personal content residing on home servers and PCs through in-home wireless to mobile devices.  None of these concepts are slated to become products at this time, but they certainly provide a look into the possibilities.
AT&T plans to launch "lots" of new U-verse TV and U-verse-enabled apps over the next twelve months, and that period should give AT&T enough experience to determine just how much churn reduction or added ARPU can be attributed to second screen apps and interactive TV.  Today, it's still too early to tell.
Read Part 2 of this series –  AT&T's new digital home offerings, including an update on AT&T CARTS.