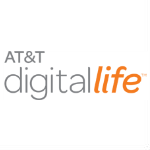 In this "Part 2" post about the AT&T 2012 Consumer Industry Analyst Conference, we look at AT&T's forthcoming Digital Life home automation and home control offerings, several other connected market initiatives, and provide a peek toward AT&T's larger game plan.  Part 1 looked at developments involving AT&T's U-verse video offering.
After seeing the U-verse TV demos at AT&T Labs, conference proceedings were opened by AT&T Mobility CEO Ralph de la Vega, who shared highlights of AT&T's sweeping three part strategy: to introduce new products and services in four areas as part of AT&T's $14 Billion Project Velocity IP (VIP) initiative announced by AT&T on November 7; to operate a premier mobile network with better spectrum efficiency to reduce churn; and to provide premier service platforms that grow revenue through data access.
Project VIP encompasses the expansion of AT&T's 4G LTE network, to make it available to 300 million people by the end of 2014, which extends upon current plans to cover 250 million by the end of 2013.  Other areas include the continued acquisition of wireless spectrum (pending regulatory approvals), and the increased densification of its mobile network through the deployment of small cells, macro cells and more antenna systems.  AT&T also plans to extend its IP fixed-line coverage to 57 million consumer and business locations by the end of 2015 by expanding U-verse from about 25 million to 33 million users with speeds of up to 75 Mbps by year-end 2015, and by implementing IP-DSLAMs for VoIP and high speed Internet access for 24 million locations with speeds of up to 45 Mbps by year-end 2013.  AT&T will also build out 4G LTE to offer wireless broadband IP access in locations where fixed-line access is not economically feasible.
AT&T Digital Life
The first of the four new service areas is AT&T Digital Life, a home automation and home control service initiative that has been in trials in Atlanta and Dallas and will launch commercially beginning in early 2013.  Continuing the theme of "disrupting" adjacent service categories, Digital Life will be an all-IP solution in an $18 Billion marketplace that is currently analog.
Because the Digital Life system is integrated with AT&T wireless access, the service will ultimately be available nationwide, and not just within AT&T's wireline footprint.  By using a combination of self-service ordering and locally-based installers, AT&T will enable consumers to order service online or through a retail location, and then coordinate all of the logistics in such a way that delivery and installation takes place during a single scheduled installation visit.  To add components – such as an additional door sensor – subscribers will be able to go to a partnered retailer or to an AT&T store and buy a sensor that's certified with Digital Life.  When the home wireless IP gateway CPE device detects the new sensor, the ecosystem automatically provisions for it.  This approach is expected to reduce costs significantly.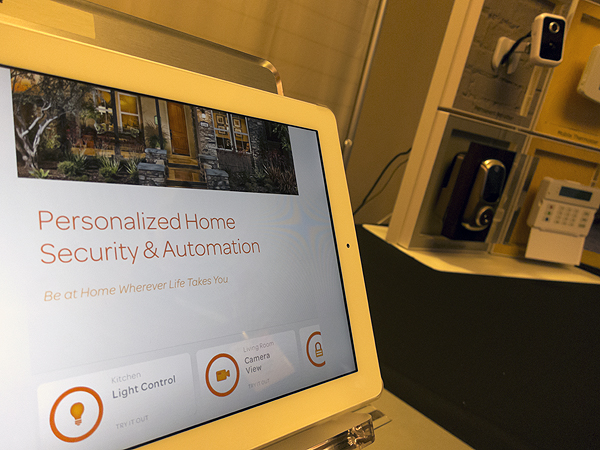 Users will be able to program the AT&T Digital Life system using a tablet or mobile smartphone.  Programs can be set up for single tasks, or for combinations of tasks.  For example, a user can use a mobile phone to select a "Welcome Home" program that turns on driveway and interior lighting, opens the garage door, and turns up the home thermostat.  A "Good Night" program can turn off the lights, lower the thermostat, arm the alarm, and lock all of the doors in the house.  The above picture shows a pre-release version of the tablet user experience, which may differ once Digital Life becomes generally available.
Mr. de la Vega believes that Digital Life will succeed because AT&T will have a first-mover advantage.  The initiative actually began more than five years ago, and included a partnership with Xanboo, a company that AT&T acquired in 2010.   Mr. de la Vega also related a success story from the Atlanta trial in which the system helped foil a burglar that was stealing incoming packages from the doorstep of a trial user.  A motion sensor detected the burglar, turned on a video camera at the door, and sent an SMS message to the homeowner.  The burglar was apprehended.
Additional new AT&T service initiatives
The three other service initiatives within Project VIP are Mobile Premise solutions, Connected Vehicles, and Mobile Payments.   Mobile premise solutions transfer in-home voice services that traditionally are delivered over fixed-line access over to wireless access.  AT&T plans to offer a service that gives subscribers a low-cost national service over IP, and lets them keep their existing home phone numbers.  They believe that mobile premise solutions will help AT&T offset the loss of traditional fixed telephone subscribers and even attract new voice subscriptions.  It will also help AT&T maximize its ongoing 4G LTE infrastructure investment.  The service is being designed for 99% self-service installation without the need for customer service calls.
Mobile Payments and NFC
AT&T's mobile payments initiative is through Isis, a mobile wallet joint venture with T-Mobile USA and Verizon Wireless that's expected to reach 200 million wireless subscribers.   Mobile payments use Near Field Communications (NFC) technology to enable machine-to-machine communication between mobile handsets and merchant payment systems – even beverage machines.
AT&T sees mobile payments as a $380 Billion industry, and according to data from Strategy Analytics that was quoted by Mr. de la Vega, more than 40 million SIM-based handsets with NFC capability for mobile payments and e-commerce will be in use by the end of 2013.  To that end, all new mobile smartphones introduced by AT&T will include NFC chips.  NFC is already in place in CVS stores, and many McDonalds restaurants.
The Connected Car
AT&T's connected vehicle initiative is intended to address the US market for vehicles with embedded connectivity.  Consumers increasingly expect to be connected everywhere, and by 2016, AT&T projects that 53% of new vehicles will be connected.
Today, connectivity is in the "front seat of the car" with safety and emergency services delivered through a wholesale model.  With 4G LTE, AT&T is positioning itself to expand upon those and address new opportunities in the "rear seat of the car," including infotainment and retail services.  Take your personal cloud with you when you leave home. Or, the local traffic center (or even an advertiser) can send messages to your car, based on proximity. If there's an auto accident en-route, dictate and email a message to the person that you will be late, showing your coordinates.
Beyond these three initiatives, AT&T executives made references to Aging in Place (where devices supporting elderly or disabled people can communicate with physicians and other health care providers over AT&T's network), and other interesting vertical market opportunities.
Revisiting the vision of AT&T's CARTS
In 2010, AT&T released an extensive white paper about CARTS, the AT&T Common Architecture for Real-Time Services over IP.  This paper explained how AT&T would transition its network to an all-IP framework, and implement Next Generation Network (NGN) and IP Multimedia Subsystem (IMS) technologies to enable a wide array of futuristic-sounding services.  The paper described how AT&T would support a variety of converged communications use cases and usage scenarios to satisfy the needs of a range of consumer and business user personas.
AT&T's SVP for Applications and Services Infrastructure, Marian Croak, made a presentation about AT&T's end-to-end IP service platform – which, to me, sounded a lot like CARTS.  During the Q&A, I asked whether it, in fact, was the execution of CARTS, to which the answer was "Yes!"   Ms. Croak said that the CARTS white paper originated in her group, and that CARTS was the roadmap of 5 years ago.  Now CARTS is the framework for all of AT&T's upcoming and future mobile and voice services (such as Voice over LTE – VoLTE – and all of the service initiatives described above).  I encouraged her to publish an update to the CARTS paper, showing progress to date.
The promise of wireless IP broadband
I went into this event thinking that we would hear mainly about the future of U-verse TV, but by the end of the day, it was clear that AT&T is already executing aggressively on plans that extend well beyond the TV.  The company is moving toward a lower dependency on fixed line networks, anticipating a world where everything is becoming wireless both inside and outside the home.  As with wireline, the point of home-based service aggregation over wireless access is the gateway – and now, that service aggregation point can also be mobile (think mobile hotspots today, connected cars tomorrow).
My own take-away
After events like this, people come away knowing that they drank a lot of Kool Aid, and I'm sure I'm as guilty as the next analyst.  But no matter.  AT&T's accomplishments are very impressive, and AT&T is one of the few service providers in the world that can pull off initiatives of this scale.  My own belief is that AT&T and other tier-1 telcos are years ahead in the process of delivering on this vision of (as the CARTS paper put it) "Anytime, Anywhere, Seamless Services."  Non-telco pay TV operators will have a Sisyphean task ahead of them as they attempt to compete effectively with these telcos in any of these other service arenas – even TV – in the long run.
Read Part 1 of this series about AT&T U-verse TV developments.