AT&T said today that it has launched 5G nationwide – and that it will make 5G capability available at no extra charge to customers purchasing unlimited plans, including Unlimited Starter, Extra and Elite plans. Those plans range in cost from $35 to $50 per month per line for four lines, or $140 to $200 a month.
Today's press release also noted that AT&T prepaid customers can get 5G capability on their Unlimited Plus plan and that Cricket prepaid customers will have a 5G option beginning August 21.
Beginning August 7, business customers also will get 5G capability at no extra charge with Business Unlimited Web-Only, Starter, Performance and Elite plans.
Some carriers initially planned to charge extra for 5G connectivity, but those plans have largely been delayed or shelved. AT&T's strategy offers a twist: There is no extra charge for 5G but not all plans include 5G service.
An AT&T spokesperson confirmed in an email to Telecompetitor that 5G is not available for customers on the company's non-unlimited plans known as "Mobile Share."
5G Devices
Of course, 5G connectivity is of no use without a 5G device. Today's press release lists AT&T 5G device options, including: Samsung Galaxy Note10+ 5G, Samsung Galaxy S20 family, Samsung Galaxy A71 5G, the LG V60 ThinQ 5G, and the LG VELVET 5G.
In an interview with CNBC today, AT&T CEO John Stankey said AT&T's plan to launch 5G nationwide at this time was based, in part, on expected device availability.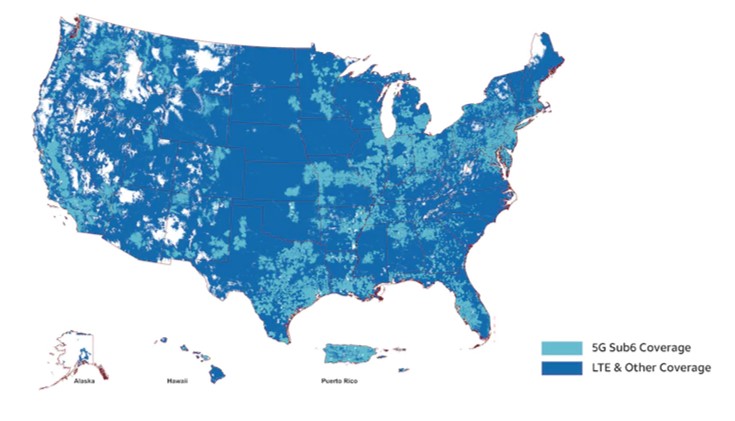 The timing, he said was "coordinated to an expectation that in the latter part of this year that we may see other 5G devices coming out from other manufacturers that are more broadly available. And we would expect that when that occurs, we're going to be in a great position."
AT&T expects to see changes in the handset upgrade cycle in "the latter part of this year," which is "one of the things that gives us confidence that we can still continue to grow our wireless service revenues as we get in the latter part of this year," Stankey said.
As customers purchase 5G devices, AT&T also will have the opportunity to put more people on unlimited plans, he noted.
AT&T Nationwide 5G
AT&T's ability to achieve nationwide coverage was made possible by the company's decision to deploy the service in lower-frequency sub-6 GHz spectrum. As today's press release notes, however, the company also has deployed 5G in high-frequency millimeter wave spectrum in 35 markets. Millimeter wave 5G offers the fastest speeds, but over relatively short distances.
All this means that AT&T has "the best mix of speeds, latency and coverage that are needed to enable revolutionary new capabilities to fuel 5G experiences for consumers and businesses," said AT&T Executive Vice President of Technology Operations Chris Sambar in today's press release about AT&T 5G and unlimited plans.
According to Sambar, "Our competitors are still working to provide that same mix, which for them could take months or even years."