AT&T president of operations, Scott Mair, confirmed AT&T nationwide 5G plans today at the Cowen Technology, Media and Telecom Conference in New York City. Mair said by this time next year, AT&T will have nationwide coverage for 5G, albeit with a somewhat liberal view of what nationwide means.
To AT&T, nationwide 5G coverage means 200 million pops covered, which leaves a lot to be desired when talking nationwide in geographic terms. AT&T's definition can be achieved by targeting major metros only.
AT&T nationwide 5G plans include a multi-pronged strategy. Those plans include leveraging millimeter wave spectrum for dense urban areas. AT&T calls this their 5G+ coverage, which will provide the fastest mobile broadband experience.
This service will be delivered primarily through small cells using a centralized radio access network (CRAN) architecture. CRAN allows multiple (maybe hundreds of) small cells to be controlled from a single centralized hub. AT&T 5G+ is currently available in select locations in 19 cities. It can offer gigabit capable speeds, notes Mair.
"I really like the momentum I'm seeing right now from our build in terms of the CRAN or small cell capabilities," said Mair in his remarks. "That millimeter wave, basically 200, 300 plus meters radius, so there's a lot more of those small cells that you need to put in place to provide that capability."
For broader, more macro coverage, AT&T will use their sub-6 GHz spectrum holdings, with 700 MHz a likely 5G workhorse. This capability will be put on existing AT&T towers, with their FirstNet build helping facilitate the transition to 5G.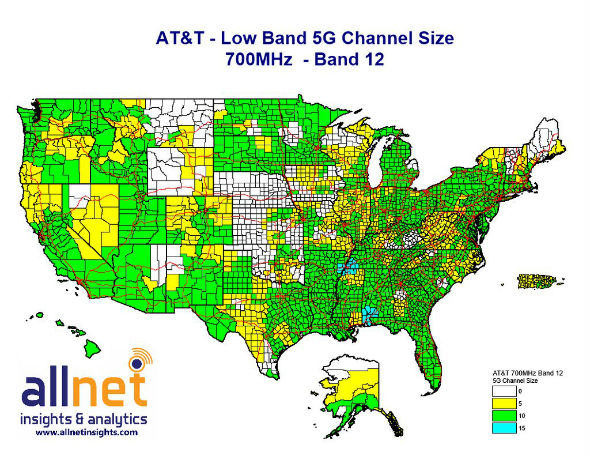 FirstNet, the government-sponsored public safety network that AT&T is building and will operate, forces AT&T to have to touch virtually all their cell towers now. They're adding capability in this process that will allow software upgrades to radios that should enable 5G in the near future. At least, that's the logical plan. This macro tower delivered 5G service will simply be called AT&T 5G, as distinguished from small cell delivered millimeter wave powered 5G+.
"Think about our traditional macro cell tower network, right, how do we provide 5G on that infrastructure," said Mair. "As I mentioned, as we've been building out FirstNet and putting our spectrum to work, the radios we've been hanging are basically software upgradeable, so that will help get a lot of [5G] coverage, more in the traditional sense."
Lastly, AT&T's controversial 5Ge, or 5G evolution will fill in the gaps where true 5G is not available. 5Ge is nothing but 4G LTE-A technology that uses carrier aggregation, masquerading as a form of 5G from a marketing perspective. To the end consumer though, the better mobile broadband performance of 4G LTE-A, may make them feel like they're getting 5G.