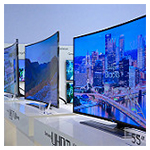 AT&T claimed an industry first Dec. 21, announcing it is the first U.S. digital video carrier to offer 4K UHD content to businesses. Targeting bars and restaurants in the main, AT&T's DirecTV 4K UHD TV content – delivered via DirecTV – includes live sports and event coverage.
The company also expects the offering will prove popular in other business venues wherein customers typically spend a lot of time – doctors and dentists' offices, salons and gyms, for instance.
AT&T originally launched 4K UHD TV service in November 2014, which also marked a U.S. industry first, as well as dedicated 4K channel, management highlights in a press release.
DirecTV 4K UHD for Business
Complementing the new 4K UHD for business, AT&T has launched The DirecTV Sports Bar Finder, a mobile app that helps users find venues where they can watch live 4K UHD sports programming.
The launch of the 4K UHD TV service is the latest in AT&T's efforts to leverage and expand DirecTV, which it acquired in 2015.
AT&T hit the December sales target the company had set for its DIRECTV NOW within the first week of the service's launch, CEO Randall Stephenson announced earlier this month. DirectTV NOW enables customers to stream pay-TV content to mobile devices without requiring purchase of a traditional pay-TV subscription.
Prepping for the launch of its DirecTV OTT video service, AT&T acquired Quickplay in May. Provider of a managed video platform that hosts OTT, TV Everywhere, and other digital video solutions, AT&T was already using Quickplay for its U-verse digital TV platform, which is now being phased out in favor of DirecTV.
Acquisitions-wise, AT&T has a much bigger target on its plate. Valued at over $108 billion, management is pursuing acquisition of Time Warner, a proposed merger currently being reviewed by regulators.
Image courtesy of flickr user Kārlis Dambrāns.