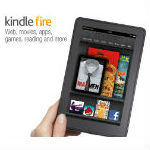 Amazon entered the crowded tablet space with the introduction of the Kindle Fire earlier this week to great fanfare. It's being heralded as the first true competitor to Apple's iPad, since Apple pretty much dominates the tablet space despite entrants from Samsung, Dell, HP, RIM/BlackBerry and a host of others. The Fire's entry cost of $199 plays a big role in this competitive comparison, significantly under cutting the iPad's retail price of $499.
I tend to think Amazon is more concerned with carving out there own tablet path, then trying to overtake Apple. For Amazon, the Fire is more about a gateway into Amazon's empire of products, then an iPad killer.
Amazon is aggressively pushing their other services, most notably access to their growing library of video content. In addition to video content, the Fire features Amazon's Kindle e-bookstore, Amazon's own App store, and their personal cloud storage. The Fire extends the reach of Amazon's growing and impressive content machine, to virtually everywhere on the planet.
Some analysts suggest that Amazon is losing money with every Fire sale – maybe even $50 per. But when you consider that it simply extends the reach of their other more profitable services, it makes much more sense.
Consider Amazon Prime, Amazon's premium membership subscription. For $79 per year, Amazon Prime subscribers get free shipping for Amazon purchases and access to a 10,000 title video content library (VOD movies and TV shows), among other benefits. Once you have a Fire, subscribing to Amazon Prime is almost a no brainer. You can do both, and still pay over $200 less than the iPad.
It's a great example of using a product – maybe even a loss leader – to upsell more profitable services. Apple certainly has elements of this strategy as well with the iPad and iTunes and their forthcoming iCloud. But Apple doesn't have nearly the product reach of Amazon (their name is Amazon after all!).
Amazon is less concerned with the Fire being the iPad killer and more concerned with the Fire extending the reach of their empire, which increasingly includes content of all types.