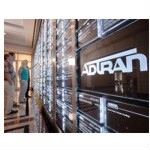 As broadband carriers map their future technology roadmap, there is an element of next generation network disruption underway. This disruption will occur as the traditional status-quo hardware centric broadband access network transitions to a programmable, agile, and software driven one.
As a result, traditional relationships between vendors and broadband carriers will evolve and may also be disrupted, a scenario that broadband access network vendor Adtran aims to facilitate.
That message was heard loud and clear at this week's Adtran Connect Summit for press and analysts in Huntsville, Alabama. Adtran is all in on the shift to SDN and NFV for the broadband access network, and they aim to be a disruptor in the process. Their recently announced Mosaic OS platform is one key framework that they hope contributes to this next generation network disruption, both on the broadband access network itself, but more importantly, on the traditional vendor hierarchy for tier 1 broadband carriers across the world.
Next Generation Network Disruption
"We're the disruptors," Adtran vice president of global marketing Gary Bolton boldly proclaimed at this week's event. Bolton and others at Adtran want to use this shift to SDN and NFV as an entry point to wrestle tier 1 carrier broadband access network business away from larger vendors like Nokia/Alcatel-Lucent, Ericsson, Huawei, and others, who traditionally serve larger tier 1 carriers globally.
"Software that you can scale on demand, that you can add and create new services on demand to drive innovation, that's the way of the future," said Adtran AVP for cloud and portfolio strategy Robert Conger in a presentation at this week's event. "That's how your telco, your cable, or any other communications networks are going to be built."
Adtran is basing their next generation network disruption strategy on a number of industry-led initiatives including Central Office Re-architected as a Datacenter (CORD), which basically applies data center architecture principles into broadband/IP networks. Key goals include applying open source software components to manage the network on a vendor neutral basis, freeing carriers from vendor specific proprietary platforms, which hopefully unleashes rapid service creation, innovation, and simplified network management.
That's the hope anyway and it makes for great slide presentations, but we're a ways off.
"No carrier is ready for true SDN now," Adtran CEO Tom Stanton commented at the event, highlighting that an evolution is underway and true disruption will take some time. Elements are available today, but there will be a process.
Next Generation Network Motivation
No matter how quick or how slow that process takes, there are different viewpoints and motivations from the vendors whose technology powers broadband access networks. A large 'incumbent' vendor with long standing tier 1 carrier business relationships is less motivated to embrace the next generation network, because it challenges their incumbency.
"How quickly you get there and how incentivized you are to get there quickly changes from vendor to vendor because obviously some vendors have a lot more incentive to be super aggressive, others have an incentive to drag this process out a lot further," said Conger. "If I'm a big incumbent [vendor] and I have all the business today at a big service provider who's trying to transform to this…I'm going to be a little bit scared about that because there's nothing good that comes from that for me."
That's where Adtran hopes to disrupt. "Adtran has more to gain, less to lose, we're very aggressive in this approach," said Conger.
They claim with Mosaic and their other next generation network components, they are ready today to help broadband carriers of all sizes make the transition. A claim they say no other vendor is prepared to make today.
"This is how your networks are going to be built going forward and it's not just an Adtran thing, this is what the service providers are saying as well," said Conger. "We just happen to be the only one who can demo all of it right now…we have real functional, sellable products that integrate into this architecture, not just a slide, or POC type deal."
Adtran says they are in both discussions and trials with a number of tier one carriers across the globe.