Coinciding with the 25th anniversary of the 1992 Cable Act, which launched the retransmission consent process for local broadcast channels, the American Cable Association (ACA) has put an interesting spin on the very painful process – ransom. Their TV Ransom campaign aims to highlight the impact of rising retransmission consent fees.
Retransmission consent is the process by which pay-TV providers gain carriage for local broadcast channels – ABC, CBS, FOX, and NBC being the most popular. The retransmission consent process, which is now underway in many markets, is a well-documented struggle, especially for the small independent cable operators, which make up ACA's membership of 750 independent providers, who collectively reach about 7 million consumers.
These small operators lack any significant scale, due to relatively small subscriber counts, and therefore lack leverage in negotiations. Local broadcast channels, which are often owned by media conglomerates (Comcast owns 28 local NBC affiliates for example), sway unfair market power and thus aren't fair negotiators, the ACA claims.
"Retransmission consent should be a straight-forward business negotiation, but, unfortunately, these corporate broadcasters abuse their market power to extract outrageous fees from cable customers," said Matthew M. Polka, President and CEO of the American Cable Association in a press release announcing the TV Ransom campaign.
Retransmission consent fees have risen 30 times in the past decade, with fees forecasted to reach $11.6 billion in 2022, up from $8.6 billion in 2017, the ACA cites from SNL Kagan and Nielsen data.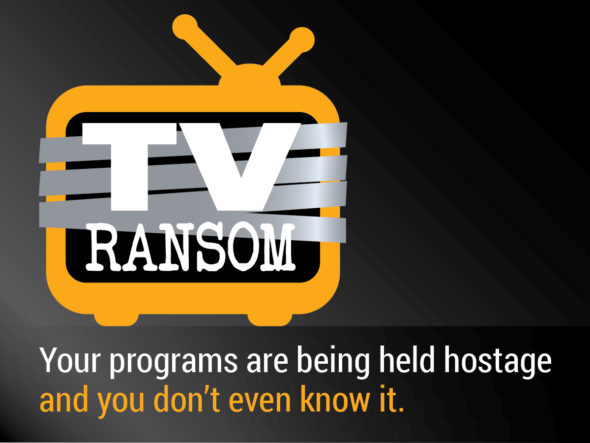 The demand for higher fees by local broadcasters often leads to blackouts, where local channels are temporarily removed from a pay-TV operator's channel line-up. ACA cited a few extreme examples where local broadcasters removed their signals, including during local emergencies:
As Hurricane Irma targeted the Gulf Coast, Hearst Television took down its signal for two markets in the path of the storm – Orlando and New Orleans – even as broadcasters touted on Capitol Hill their commitment to the public during extreme weather events.
For a month in early 2017, Northwest Broadcasting simultaneously blacked out ABC, CBS, NBC and FOX signals in two Mississippi communities served by Cable ONE.
Shortly after acquiring an NBC affiliate station in Toledo, Ohio, Sinclair Broadcast Group demanded that Buckeye Broadband pay significantly higher fees to access the station's signal. That demand led to Sinclair taking the station off the air for 212 days before an agreement could be reached.
While local broadcasters get much of the blame from ACA and others, they are also somewhat caught up in this process, due to rising programming fees charged to them from their affiliate networks – ABC, CBS, FOX, and NBC. Local broadcasters pass those fees on to pay-TV providers, with their own mark-up, all of which eventually gets paid by end consumers through their monthly cable TV bill.
ACA's TV Ransom campaign has three key objectives, including: 1) illustrate how corporate broadcasters use their market power to take advantage of retransmission consent negotiations to extract escalating fees from cable customers; 2) expose corporate broadcasters' weak business models, which lead to their aggressive negotiation tactics designed to make money off the backs of consumers; and 3) demonstrate how consolidation of broadcast and media companies is taking local TV station ownership corporate, so that local news is no longer local, and "free TV" is no longer free.
The campaign will include heavy media and digital tactics and will also include an informational toolkit of print and digital resources for ACA members to individually use as they see fit, explaining the facts and origin of retransmission consent, how it works, and how consumers are adversely affected, according to an ACA spokesperson.
"ACA's work on TV Ransom is consistent with its long history of support for its members, customers and communities on the harm of retransmission consent, and its advocacy to bring meaningful reform to a broken retransmission consent system," said Polka in a statement to Telecompetitor. "That said, because of the unrelenting and escalating harm caused by broadcasters in their retransmission consent negotiations this year, ACA took this unique step to put the true blame of retransmission consent at the feet of the so-called 'free and local' broadcasters."