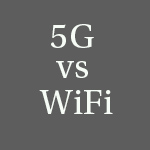 Despite the promise of much higher speeds, 5G is currently slower than Wi-Fi in the U.S., according to new 5G vs. Wi-Fi research from Opensignal.
In the U.S., Wi-Fi continues to offer a small edge over 5G because of the large number of U.S. 5G users connecting on widely available, but relatively slow, 5G networks that are deployed using low-frequency spectrum bands, Opensignal said.
T-Mobile and AT&T have launched their main service on low-band spectrum which has less capacity, but offers wider coverage, according to Opensignal. The company expects carriers in the U.S. and in other countries will increasingly offer 5G on higher mid-band frequency bands. As they do, average U.S. 5G speeds will rise significantly.
It's worth noting that the fastest 5G speeds occur when the technology is deployed in high-frequency millimeter wave band spectrum, as AT&T, T-Mobile and Verizon have done in some areas. 5G deployed in the millimeter wave band has relatively short range, however, which means that relatively few end users are experiencing the high speeds supported.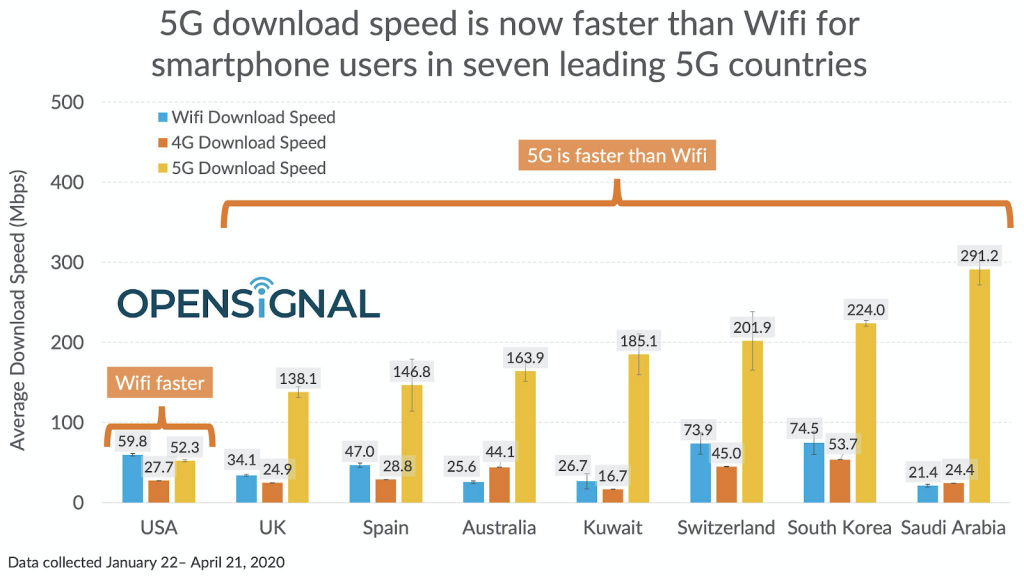 5G Vs. Wi-Fi
The U.S. experience is different than in seven other leading 5G countries, Open Signal said in a press release. "In most countries, initial 5G services have been offered exclusively on fast high capacity mid-band spectrum — around 3.5Ghz, sometimes called the C-band," the company said, also noting that "our findings show the importance of not letting the current COVID-19 crisis — or active anti-5G disinformation campaigns — delay 5G rollouts because the increased capacity and faster speeds that 5G enables are critical to keeping people connected today and in the future with rising network usage."
It's worth noting that U.S. 5G speeds should increase as T-Mobile begins building out mid-band spectrum it acquired through the Sprint merger. The company already has deployed 5G using that spectrum in two markets and has seen higher speeds, as Telecompetitor reported.
Opensignal said that it doesn't expect cellular connectivity to replace Wi-Fi anytime soon. "Wi-Fi and mobile technology are complementary," the the market research firm said. "However, with rising speeds and additional spectrum capacity, 5G services will make the cellular experience increasingly valuable," leading to increasing instances of smartphone users receiving faster service by turning off Wi-Fi and using their regular mobile connection.
The difference in 5G download speed between various countries depends not only on the spectrum band used, but also on how much spectrum is used. Where operators have used something close to 100 MHz of spectrum, they typically support faster speeds than those operators limited to 40MHz or 50MHz 5G channel sizes, Opensignal noted in the press release about the 5G vs. Wi-Fi research.
"The quality of the 'backhaul' connections to each 5G base station — the way each cell tower is connected onto the main network — also affects the real-world experience," Opensignal said.
Joan Engebretson contributed to this report.