Until now, T-Mobile has been quite guarded about its 5G speeds, not citing specifics and even cautioning that in some areas, consumers wouldn't notice much difference from 4G LTE. But that's changing, now that the company's merger with Sprint has been completed, putting Sprint's treasure trove of spectrum holdings in T-Mobile's hands.
The newly merged company said today that it has achieved peak speeds near 600 Mbps in parts of Philadelphia, where it has deployed 5G using spectrum in the 2.5 GHz band that came with the Sprint merger. T-Mobile also noted that it soon will deploy 5G in the 2.5 GHz band in parts of New York City. The company also said it "will continue building out 2.5 GHz 5G quickly."
Sprint's 2.5 GHz holdings cover the entire country.
T-Mobile 5G Speeds
The 2.5 GHz band is considered mid-band spectrum, which according to some stakeholders, offers the optimum mixture of speed and coverage. The multi-hundred gigabits per second speeds in Philadelphia that T-Mobile has achieved are less than what AT&T and Verizon are seeing in areas where they deployed 5G in the high-frequency millimeter wave band.
The downside to those deployments, though, is that range is limited in comparison with deployments in lower-frequency bands (T-Mobile also has done a few limited deployments using millimeter wave spectrum but hasn't shared much information about them).
Until now, T-Mobile has relied mostly on low-frequency 600 MHz spectrum for 5G – an approach that has enabled the company to claim near-nationwide coverage but that supports speeds that sometimes are barely higher than what customers can get with 4G LTE.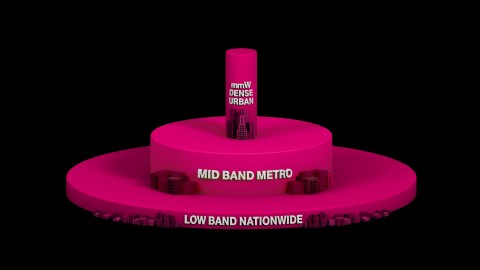 Ultimately, virtually all carriers expect to deploy 5G in a range of spectrum bands, and in a press release today, T-Mobile noted that customers in New York will be the first to have access to low-band, mid-band and millimeter wave 5G.
The company also boasted that its "unique combination" of low, mid and high-band spectrum makes it "the only company with the resources to create a transformative network capable of driving innovation across the country and providing people in cities and rural areas with a 5G network the other guys can't match."
Since the merger, T-Mobile also has deployed 5G in Detroit, St. Louis and Columbus – apparently in the 600 MHz band. In addition, T-Mobile noted in today's press release that Sprint customers with the Samsung Galaxy S 20 5G will be able to use T-Mobile's 5G network in more than 5,000 cities and towns across the country, beginning later this month. Sprint customers also can now roam on the T-Mobile LTE network, T-Mobile said.
T-Mobile had to make 5G deployment commitments to obtain regulatory approval for the Sprint merger and today's press release references those commitments, which will rely, in large part, on Sprint's 2.5 GHz spectrum.
That spectrum, T-Mobile said, will "boost average 5G speeds for customers nationwide up to eight times faster than current LTE in just a few years" and "15 times faster than current LTE over the next six years."