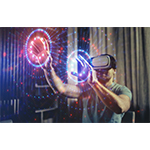 Extended reality – a category that includes virtual, augmented and mixed reality – is expected to be a key 5G application. These applications are expected to require edge computing to provide processing power close enough to mobile users to support real-time functionality.
And with carriers undertaking 5G deployments in earnest, edge computing is shaping up to be a key buzzword of 2019. Take a new AT&T blog post for example.
AT&T was one of the first stakeholders to talk about the importance of edge computing to 5G and last year the company launched the AT&T Foundry Edge Computing Zone, where the carrier has collaborated with companies such as Ericsson, GridRaster and NVIDIA to develop applications that would rely on that combination of technologies.
In recent weeks, however, everyone seems to be talking about edge computing for 5G, which may have prompted AT&T's latest blog post, which aims to position the company as being on the vanguard of 5G edge computing.
5G Extended Reality
In the blog post, an AT&T technologist says the company is "determined to 'cut the cord' on all XR [extended reality] and gaming applications," even though there is "some industry skepticism that truly mobile 3D content delivery will ever be possible."
The author notes that the company will unveil a demo next month that will deliver 6DOF [six degrees of freedom] interactive content from online gaming source SteamVR to a wireless head-mounted display device connected to a graphics processing unit-accelerated gaming server over a millimeter wave 5G connection. 6DOF refers to a body's freedom of movement in a three-dimensional space, the blog post explains.
Achieving seamless 6DoF movement in a digital 3D space is "no small feat," the author states. "Separating the server and display by a wireless network means introducing new confounding factors into the pipeline, such as encoding and decoding delays, transmission delay, packet loss and jitter," the blog post notes.
According to the author, solving this will require not only optimizing network performance but also re-architecting how applications are designed and implemented. To achieve that, the company has enlisted new collaborators, the author states.
The blog post also references other key work taking place in AT&T's Edge Computing Zone, including live high-definition/3D mapping for vehicle automation and real-time IoT analytics, including alert and response systems for public safety. The latter would appear to be a natural fit for AT&T, which is building a dedicated nationwide public safety mobile broadband network. That network is based on LTE technology, but nevertheless could benefit from using edge computing to support specialized mobile applications.